Step into eCommerce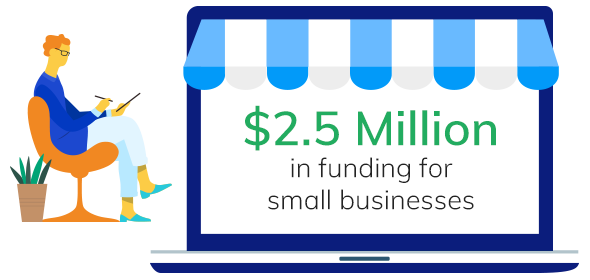 As a business owner, your concerns are many. You need to remain profitable and serve the customers that rely on you. Even if you haven't been ordered to close, you may have health concerns that preclude you from remaining open to customers off the street. You may have decided it's time to start selling online.
How We Can Help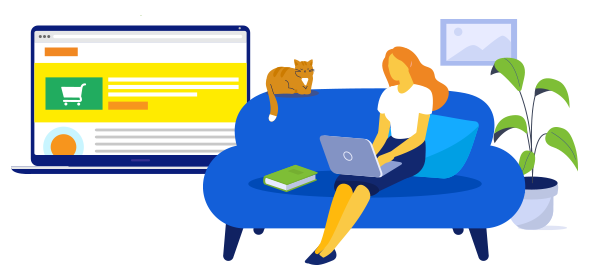 To help business owners like you get started with eCommerce, we're introducing the COVID-19 eCommerce Assistance Fund. 3dcart has committed $2.5 million for small businesses seeking to bring their operations online. This means we can provide small businesses with 3 free months of our Basic Store plan, normally $29/month, to help you get established with an eCommerce website. And if you're already using 3dcart, we can assist you, too.
Assistance for Current 3dcart Customers
If you're already a 3dcart customer, we're making it easier to power up your online store in several ways that will help your business reach more customers
and perform as well as possible in this difficult time. You can claim all of the following:
Free upgrade for 90 days to a higher plan to access more features for your store. Simply log into your 3dcart Online Store Manager and choose to upgrade to a higher-tier plan — whichever you'd like to use, free, for 90 days.
$500 in credit toward any design package or our Complete SEO Bundle. You can use this $500 credit toward a redesign for your website or toward our complete package of professional SEO services. Start here: Claim my $500 Credit https://grow.3dcart.com/covid19-small-business-credit
$150 credit toward themes, apps, and MyWebmaster services. Themes are the fastest way to design your website, while apps are great for expanding your store with advanced features. Our MyWebmaster service is the easiest way to hire a professional webmaster from our team to help you with the technical side of your website. Use the following coupon code to claim $50 each on our Theme Store, App Store, and MyWebmaster Store (a total of $150): covid19
New to 3dcart? See Our Features to Help You Move Online
3dcart Basic includes all the essential features for selling online to new customers as
well as your existing customer base, including the following which will help you get set up online quickly:
Unlimited Products and Bandwidth
Sell your entire inventory online with no concerns about exceeding a limit of web traffic.
Free Domain
If your business does not already own a domain name, we can register one for you for free.
Staff Users and Email Accounts
3dcart Basic comes with 2 Staff User accounts for management of your store, and 5 email accounts using your domain name.
No Transaction Fees
We don't charge any additional fees per transaction; you're only subject to the normal fee from your payment processor.
Over 160 Available Payment Providers
Accept payments the way your customers prefer, with everything from credit cards to Amazon Pay, Apple Pay, and more.
24/7/365 Support
Even with many businesses ordered to close, 3dcart is continuing to offer remote support via online chat and tickets, available 24/7 to help you get online and start selling.
Features to Maintain Your Business and Serve Customers
We know you have concerns for your business - you need to remain profitable, but you're also thinking
of the loyal customers who rely on you for your products. 3dcart Basic can help with features like these:
Promotions and Coupons
Ease the financial burden on your customers by creating coupon codes and other promotions with our versatile tools.
Gift Certificates
Online gift cards open up another possibility for revenue that can help your business survive the current situation.
Flexible Shipping Options
Minimize travel and contact to reduce COVID-19's chance to spread. In 3dcart, you can create local delivery options, or in-store or curbside pickup limited to customers within your range.
Support for Your Industry
If your store sells products such as CBD, many customers may rely on your products for pain or anxiety relief. Since 3dcart supports highly regulated and age-restricted industries, you can continue to help your customers from your website.
Stay Up to Date
Staying informed will help keep you safe. You can always find the most current COVID-19 information on the WHO website.
Statistics, research, and other information can be found at Our World in Data.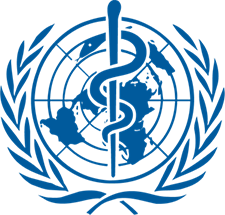 Frequently Asked Questions
What other types of features are in 3dcart Basic?
How is COVID-19 affecting 3dcart and merchants who use the 3dcart platform?
While our team has transitioned to remote work to help reduce risk to our team and our community, all our systems are functional. We are here to support you and your business without any service interruptions.
How can I contact 3dcart?
We are always available 24/7/365 through live chat and tickets, and you can call us at 1-800-828-6650 toll free. At the current point in time, we recommend you use chat or tickets first if you're contacting us for technical support.
Who is eligible for assistance from 3dcart?
If you run a physically established small business seeking to go online, you may qualify for the COVID-19 eCommerce Assistance Fund and receive 3 months of free service. You can find the application above. If you're an existing customer, you can claim the bonuses listed above on this page by following the included instructions.