The Best Restaurant Website Builder
Shift4Shop is your solution for building a restaurant website
Food is at the Heart of Every Culture
Food does more than just keep us alive. It also represents an important part of human history and experience. Whether it's a quick meal alone or a special occasion with friends, food is a central part of the day, and that's never going to change. Restaurants do steady business, even if they only offer pickup and delivery and not a full sit-down experience.
In fact, pickup and delivery are more popular than ever, for many reasons. The fast pace of life has led to an increase in online orders, and the COVID-19 pandemic forced all kinds of businesses to move online. Restaurants today are smart to offer pickup and/or delivery to keep their customers satisfied and their budgets healthy. To create a successful website, not just any restaurant website builder will do: you need the best eCommerce software with all the right features.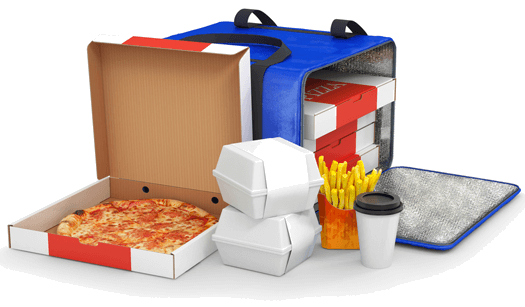 Types of Restaurant Websites
People are always going to need to eat, and there's another undeniable fact that goes right along with this: people are not always going to want to cook. Much of the time, they're not going to want to go out, either, or spend any more time than necessary to get the meal they're craving. Ordering online is the solution, and restaurants of every flavor are taking advantage of it.
Better yet, people's tastes are constantly growing as they discover new types of food. Some seek out specific favorites and make a habit of ordering them regularly. Others are always on the lookout for a new and exciting restaurant to try, whether they're seeking a new spin on an old classic (like a burger), or something that's completely new to them. Either way, it's a fantastic time for restaurants to go online.
With thousands of culinary styles and recipes available from all over the world, it's impossible to list every type of restaurant on one page. The following are some of the biggest favorites for ordering online for take-out (or take-away).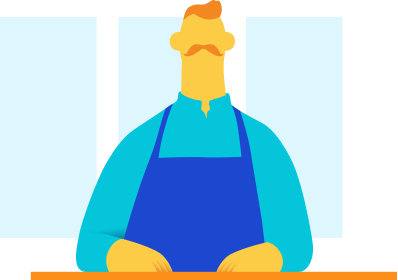 Features a Restaurant Website Builder Needs
Shift4Shop is the best eCommerce software and restaurant website builder on the market. It has every feature you need to present your customers with a mouthwatering menu, accept a variety of payment types, and set up delivery or pickup as needed. It also includes hundreds of tools for marketing and SEO to help others find your restaurant website. It's also healthy for your budget — if you use Shift4 Payments as your credit card processor, you can access our free End-to-End eCommerce plan, which includes all our features with no monthly fee.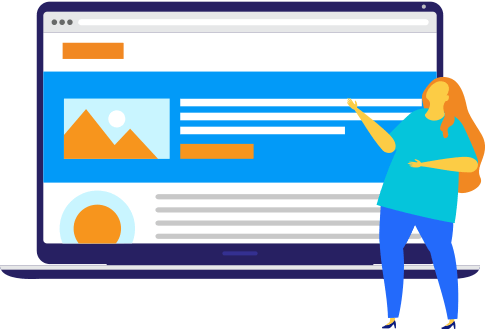 Why Shift4Shop is the Best Restaurant Website Builder
HTML Builder and Page Editor
Building a website is easy with Shift4Shop's included tools. No matter your web design skills, or knowledge of code, your restaurant website can be up and running in no time with complete access to the most advanced eCommerce features. This sets Shift4Shop apart from other restaurant website builders that are strong on appearance but weak on substance.
Blog and Unlimited Content Pages
Create and update a blog to let your followers know about new dishes, events, and more. Create as many extra pages as needed for your website, perfect for ingredient and nutrition information, company history, and more. By filling your website with fascinating information, you make your business more real to customers!
Accept Online Payments
Let your customers pay how they want. Shift4Shop's built-in integration with Shift4 Payments sets up in minutes, and lets you accept credit cards as well as several alternate payment types. Shift4Shop also integrates with over 160 payment providers so your customers can order with their favorite payment methods. Let them use credit cards, Apple Pay, Amazon Pay, Google Pay, and many more. We will never add transaction fees to your sales.
Full Mobile Support
Shift4Shop websites are fully mobile-responsive, so busy customers can order just as easily whether they choose their desktop computer or their smartphone. Plus, your site will retain all its branding on mobile and provide the smoothest browsing experience possible.
Flexible Delivery Module
Customize Shift4Shop's built-in shipping features with a few easy changes to your settings. Create a delivery option, limit it to a specific area, and add an extra fee as needed. Whether your restaurant has one location or many, this system is easy and convenient to set up and use.
In-Store Pickup
Our In-Store Pickup module streamlines the process for customers who order online and choose to pick up their order. It's perfect for take-out restaurants and can be set up in minutes. If you prefer, you can also set up in-store pickup using custom shipping settings rather than the dedicated module, so you can choose whatever works best for your workflow.
Sell Merchandise and Souvenirs
With room for unlimited products and categories, your restaurant website can sell more than just food! Sell apparel, accessories, and more to help customers support your brand. Your website will stay organized and easy to navigate.
Powerful Marketing and SEO Tools
Spread the word about your restaurant on Facebook, Google, Instagram, and more with cutting-edge built-in SEO and marketing features. Use Facebook's advanced Dynamic Ads targeting, reach the top of search engine results, run an email newsletter, and create discounts whenever you want.
How to Create a Restaurant Website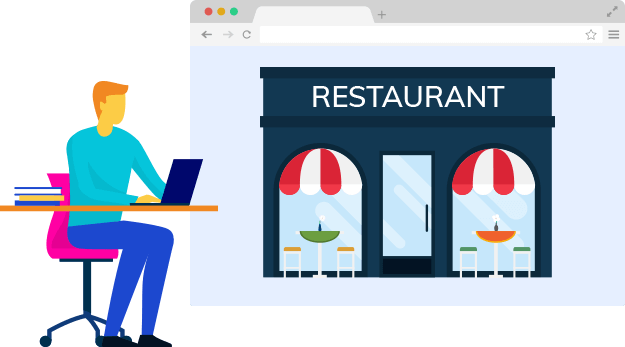 Want to see just how Shift4Shop works as a restaurant website builder? Here's a quick overview where we'll discuss specific Shift4Shop features and how to set them up. This is just an example process, and your own restaurant's needs may vary, but Shift4Shop is flexible enough to work for a huge variety of business models.
Choose Your Theme
Shift4Shop makes web design easy with a wide (and growing) selection of free eCommerce website templates, all of which can be fully customized to match your brand. Use our built-in Theme Editor and Page Editor to customize your site's look and feel, or dive right into the HTML and CSS itself with full development access to your theme files.
The best thing about Shift4Shop themes is that they can be customized to work with any industry. We do have some available that are built for restaurants right out of the box (and we'll provide 2 examples shortly). You can change the images on your theme to match your type of restaurant, so you could easily customize a theme like Fancy Pizza to work for a sports grill.
If you have your favorite theme picked out already, feel free to install and activate it on your store. If you're still undecided, or you'd like to choose later after more of your site is built, you can skip this step for now and come back to it later.
Configure Your Settings
Since Shift4Shop is a full-featured eCommerce platform, you'll want to customize your settings to bring out its potential as a restaurant website builder. There are some features you won't need, so you can turn them off. Others are more of a personal choice. Some features, however, should be set up a specific way to work best for a restaurant.
Adjust Product Image Settings

Food products look best when shown with larger pictures, to whet your customers' appetites and show them all the appetizing details. Shift4Shop has a built-in zoom feature, but you can turn this off if you feel it's unnecessary to let site visitors zoom in closely on parts of your images.

Change the Add to Cart Action to Quick Cart

Let customers order more items more quickly by using Quick Cart, rather than needing the customer to visit their View Cart page after adding an item.

Checkout Options

Set your store to allow guest checkout if you don't want to require customers to register. Customers ordering food are usually in a hurry and will be turned away by needing to sign up. You should also turn on the requirement for a phone number so you can inform them more easily if something goes wrong with their order.

Adjust Order Emails

Shift4Shop sends out emails to the customer and your staff based on order status. Turn off the ones you don't need, and add any necessary teams to the distribution list (e.g. so your kitchen team gets a copy of the email when the order comes in).
Allow Custom Prices on Phone Orders

Shift4Shop's Phone Orders module lets you set up orders manually, useful when a customer calls in an order on the phone. Allowing custom prices will let you adjust the price of your products manually while creating the order, so you can meet special requirements for customers (like dietary considerations).

Turn Off Inventory Control

Shift4Shop's Inventory Control feature keeps track of your products in stock, but you don't need this when making food to order. If you do sell merchandise, leave it on for those products.

Hide Gift Registry Link

Since restaurants don't often use gift registries, you can hide the link without deleting the feature from your website in case you do find occasion to use it later.

Change Wording on Your Website

In the Shift4Shop Store Language settings, you can change the default wording that appears on your store. For example, you can change "Add to Cart" to something more appropriate for a restaurant, such as "Order Now." You can also change "Shipping Options" and "Shipping Information" to something like "Delivery Options" and "Deliver to," respectively. These match the wording customers expect from a restaurant website.
Set Up Delivery Options
Since you're not shipping nationally or internationally, you want your restaurant website to reflect that you only deliver to certain areas. Some customers who want to pick up their order may be willing to drive farther than you're able to deliver, so you can accept a wider distance range for pickup orders. Set up Shift4Shop's shipping options for delivery by removing the built-in shipping carrier options, restricting your country, and adding custom ZIP code options. You can also add a delivery charge as either a flat amount or a percentage. For tipping, you can use our Checkout Additional Fees module.
For in-store pickup, there are two ways you can set this up. You can use a ZIP code range from where you'll accept pickup orders, as described above, or you can use Shift4Shop's In-Store Pickup module which is a dedicated tool for this feature. The In-Store Pickup module makes the process smoother, easier to set up on your end, and easy for customers too.
Set Up Payment Methods
Accept credit cards in minutes with Shift4 Payments. You can also accept digital wallets like Apple Pay and Google Pay as well as other alternate payment types. You should also create an offline payment method to allow customers to pay in person upon delivery or pickup. Set up your sales tax calculation as well, basing it on the area you serve.
Add Products and Categories
Now it's time to add your products and categorize them as needed. For example, if you sell pizza and subs, you could create a "Pizza" category and a "Subs" category and add each menu offering as a product. You can create as many categories as you see fit.
Each product page can also support unlimited product options, so you can let your customers choose the size, extra toppings, side dishes, and more, all with an extra charge if necessary.
There are many different ways you could choose to create and categorize your food products. For example, you could use Bundles to create full meals that come with additional sides and a beverage, at a slight discount from ordering the items separately. Or, you could simply offer the sides as extra options on the product page. Ultimately, it's up to you how you'd prefer to do this, but Shift4Shop's features support tons of different methods that can do what you imagine.
Learn More About Setting Up Your Restaurant Website
Shift4Shop has a vast Knowledgebase with complete articles about each of our features, and full instructions on how to use them. You can find everything you need to know about everything we've gone over in this article, and more. Here are in-depth guides to some of the features we mentioned above:
Online Store Themes for Restaurant Websites
Cook Up an Appetizing Website in Just a Few Minutes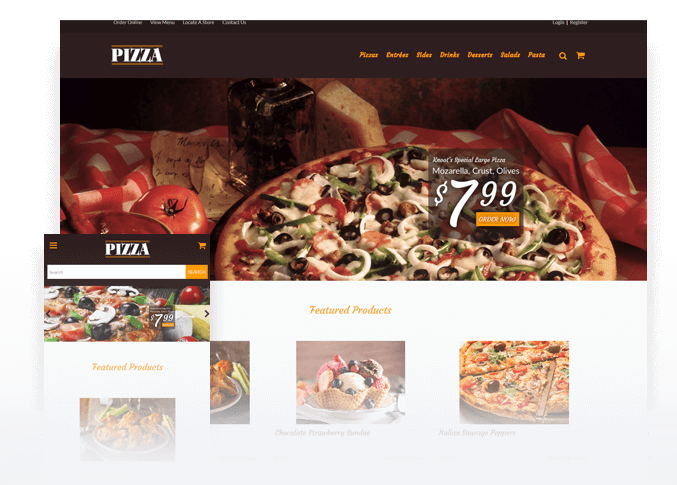 Fancy Pizza
Built for pizza places right out of the box, Fancy Pizza greets customers with a large hero banner and Featured Products. Both are effective ways to draw visitors' attention immediately, and inform them about your current promotions and popular recipes. Navigation is simple with a dropdown menu, and the mobile-responsive design means customers will enjoy ordering on both mobile and desktop.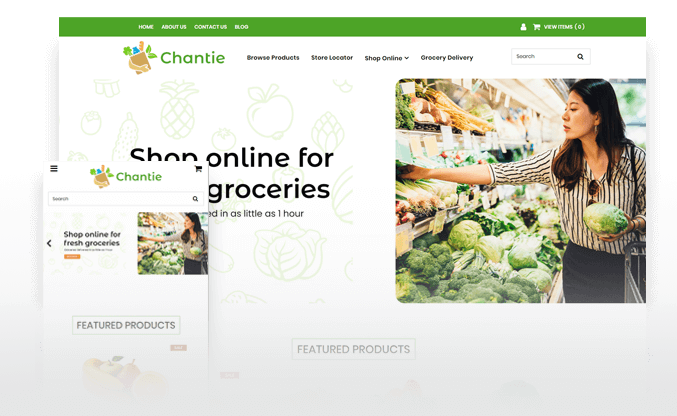 Chantie
While mainly intended for grocery services, Chantie is a versatile, mobile-ready free theme perfect for any restaurant that wants a clean, fresh look to promote health-focused or organic foods. The large hero banner carousel is great for whetting your customers' appetites, and there's plenty of room for Featured Products on the front page to showcase all your signature dishes.
Shift4Shop is the best restaurant website builder
Frequently Asked Questions
How do I get the In-Store Pickup module on my restaurant website?
Shift4Shop's In-Store Pickup module is automatically available to merchants using our free End-to-End eCommerce plan. If you are not on the free plan, the module is also available in Shift4Shop Pro. You must also be using a Core theme for your site's design. All current Shift4Shop themes in our theme store are Core and will work with the module. If your store meets these requirements, you can turn the In-Store Pickup module on in your Modules menu within your Shift4Shop Online Store Manager. From there, you can also adjust its settings.
Can I add all my custom branding to my Shift4Shop restaurant website?
Yes! In Shift4Shop, you can add your store logo, slogan, images, and more. Additionally, all the elements in your store's theme are customizable, so you can use your preferred fonts and graphics, background image, and other assets.
What is the best way for a restaurant to use a homepage carousel?
The homepage carousel displays a rotating series of banners on the front page of your website. As a restaurant, this is a fantastic place to show appetizing close-ups of signature dishes, new offerings, and current promotions. Remember that the homepage carousel is going to be the first thing your customers see, so it will catch their attention immediately.