The Best Miva Alternative for Your eCommerce Website
Choose the right eCommerce platform to start and grow your business

VS.

Switch to Shift4Shop and get a FREE product migration!
The real cost of Shift4Shop vs. the real cost of Miva
Shift4Shop: Healthy for Your Budget. Miva: Unpredictable Fees.
When choosing an eCommerce platform to run your business, it's crucial that you can plan your budget accordingly. Unfortunately, Miva doesn't make this easy. While they used to offer a range of plans (which were comparatively expensive in their own right), their pricing is now only available by quote. This means you'll need to set up a consultation with them before you can even get started.
This also leads to other complications, especially if your business is relatively new (or just starting out). It's impossible to create a budget if you don't know what you're going to be paying, and Miva makes it even more difficult by tying your fee to the size of your business. So, a brand-new business could find its rate suddenly increasing far beyond what its budget can support, just because of a sudden increase in sales volume after launch. This destroys your early growth, and even larger businesses find budgeting impossible since Miva has a history of raising its rates without warning.
With Shift4Shop, you never have to worry about this problem. Our plans are clearly visible on our website, and if you're able to use Shift4 Payments as your payment processor, you can stop thinking about eCommerce fees altogether. Our End-to-End eCommerce plan, powered by Shift4 Payments, is completely free, includes all our features, and has no limits on disk space, bandwidth, number of sales, or anything else. It's a fully enterprise-grade eCommerce plan you can get at no cost, making it better than Miva in all respects.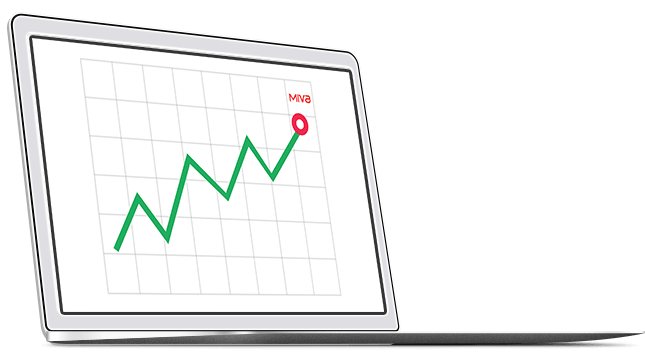 About Shift4Shop and Miva

Shift4Shop is a feature-rich eCommerce platform serving businesses of all sizes in a wide range of industries across the globe. Offering an unmatched free eCommerce solution, the company provides everything you need to start — and grow — your business. This turnkey eCommerce experience includes powerful tools to help businesses succeed — a robust website builder, product and order management, customer marketing tools, and more. Customers can choose from dozens of professionally designed, industry-specific templates, all of which are mobile-friendly, SEO optimized, and highly customizable.


Miva Merchant's earliest days were as a scripting language called HTMLScript back in 1995, which the company then used to create their first eCommerce platform, KoolKat, in 1997. In 1998 HTMLScript was renamed MivaScript and given additional features, with KoolKat developing into Miva Merchant 1.0. Since then, Miva has grown through several software updates and business acquisitions, with the company itself being purchased in 2007. Miva's headquarters are located in San Diego, California.



Shift4Shop vs. Miva functionality comparison
Easy Setup and Administration vs. Difficult Setup and Unfriendly Store Design
User-friendly store themes
Miva only offers 12 themes (one of which is a blank canvas), and several of them feature a large, intrusive navigation bar that remains on the screen at all times. This bar is far larger than the popular "sticky menu" that has become a web navigation standard — on devices like an iPad, Miva's bar takes up so much space that visitors can't even see product images in their entirety. Shift4Shop, on the other hand, offers a huge selection of free themes (over 100 and growing), all of which are designed for maximum shopper appeal and selling potential.
Ease of use
Miva is time-consuming to set up, and since you're running a business you may not have the time and energy to devote to the technical aspects of your online store. However, Shift4Shop's intuitive interface will have your store up and running in minutes, even if you're not tech-savvy.

"Miva changed their pricing structure on us right before the holidays, saying that because of our gross revenues our monthly fee would increase drastically— from $59 to $1,540 per month. This happened during our busiest season and we only had 30 days warning, not enough time to move to another cart and still have our store ready for the holidays."
– Former Miva Store Owner
Transparency
Choosing an eCommerce platform is one of the most important decisions you can make for your business. When selecting your software, you need all the information you can get, especially if you're going to be paying a monthly fee. Which plan includes which features? How many admin logins can your site have? Are there any limits, like storage space and bandwidth? Unfortunately, since Miva hides its plans behind the need for a consultation, you can't get a clear picture of how much the features you need are going to cost you. But Shift4Shop makes pricing readily available and lists every feature on its plans page.
Shift4Shop Pricing vs. Miva Pricing
Consistent pricing is healthy for your budget and good for your business

Shift4Shop Pricing
Shift4Shop takes a completely different approach to pricing than Miva. All Shift4Shop plans are visible at all times on our Plans page, complete with a thorough breakdown of the included features. Rather than going in blindly as you would if starting with Miva, with Shift4Shop you can make an informed decision as to which plan you use based on your monthly budget and the features you want right away. Shift4Shop even offers a completely free plan that includes all the features and no limits on products, storage, bandwidth, or anything else, which is unique in the eCommerce industry. This makes Shift4Shop far more accessible to small businesses than Miva could ever hope to be, and even if you opt out of the free plan, you can still get started for a fraction of Miva's price. Plus, a side-by-side feature comparison between Miva and Shift4Shop quickly shows that Shift4Shop gives you many more tools for managing and growing your business, including features that Miva simply doesn't offer at all, like unlimited bandwidth and storage.


Miva Pricing
Miva does not use a standard pricing model. While different plan levels are available, you don't get to choose which plan you sign up for — and you can't even access thorough pricing information without first providing your business's details to Miva. Rather than choosing a plan, you provide Miva with the amount of your trailing 12 months of revenue, and they place you in a plan based on that. This is problematic for several reasons: one, it makes it difficult to budget for your eCommerce platform ahead of time. Two, it makes things even harder for new businesses that don't yet know how their revenue is going to look, as if you make a lot of sales right away, you can be moved into a much more expensive plan without warning. This can cause serious problems for a new, small business, especially considering that even Miva's lowest-priced plan costs more than other platforms (last time their pricing was publicly available, it started at $79/month). Many businesses are also wary of Miva's pricing because when they moved to their current pricing model a few years ago, they did so without notice, and moved many of their clients to higher plans immediately, causing their expenses to skyrocket.


Shift4Shop Themes vs. Miva Themes
Comparing Shift4Shop's free themes to Miva's free themes
Miva and Shift4Shop both offer a selection of free store templates to make web design simple, but which platform has the better themes? Let's compare.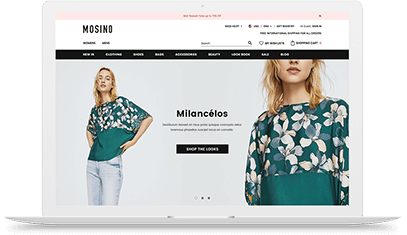 Free Shift4Shop Themes
Shift4Shop offers a much wider selection of free eCommerce website themes — over 100 and growing — all of which are built with the Core Template Engine, a revolutionary theme framework developed by Shift4Shop to bring the most cutting-edge standards into online store design. There's a large assortment of designs to choose from, so you have a lot of control over the "look and feel" of your website, and each theme is fully optimized for viewing on all devices. You can customize your store's theme with built-in tools, or if you know HTML and CSS, you can edit the code directly. You can even clone your theme to create a copy you can experiment on freely. Overall, it's not as much of a challenge to build a unique-looking website.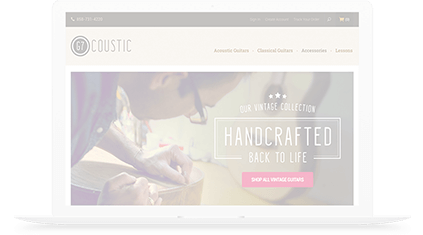 Free Miva Themes
Miva's themes (called ReadyThemes) follow modern design conventions and are fully mobile-responsive so customers can shop on any device. They can all be customized through Miva's WYSIWYG editor or by editing the HTML and CSS code. However, the theme selection is so small that you're going to need to do lots of editing to brand your store and prevent it from blending into the crowd. Most Miva ReadyThemes also include a navigation bar that takes up too much screen real estate on tablets and phones, making it harder for customers to view your products.
Maintain control of your business
Shift4Shop gives you the tools and freedom to manage your store how you see fit
Shift4Shop: Unlimited eCommerce for free

Shift4Shop offers unlimited bandwidth and disk space for every plan, including the free End-to-End eCommerce plan. All the space you need for unlimited products, images, and customers.
Miva: High price and low limits

No matter how much you pay Miva, you never get unlimited storage or bandwidth, and if you go over, you're charged for that, too. Lowest-priced plan? $79.95/month.
Beginner-Friendly vs. Large Businesses Only
Shift4Shop:
Shift4Shop offers entry-level pricing (including a free plan) to ensure businesses of all sizes can open a successful, affordable online store.
Miva:
Miva's lowest price point is more expensive than many small businesses can handle, making it quite rough on your budget if you're just starting out.
Thousands worldwide choose Shift4Shop
See what our clients have to say about us
"I moved to Shift4Shop after two years with Shopify and couldn't be happier. I've saved an untold amount of money on not only my monthly plan cost, but in transaction fees too"
"I originally went with Miva for their big name, only to find myself constantly in search of an app that could perform the most basic of functions. At Shift4Shop, everything I need to manage my store is included as a built-in feature."
The software is easy to use and the technical support service is top notch all the way. We are so happy with their expertise, reliability and attention to details that we recommend Shift4Shop to anyone.
Shift4Shop offers more features which is the main reason I switched. I've used design services 3 times. I gave them little information to go off of & they were able to create a great design each time!
Frequently Asked Questions
How much does Miva cost?
This is a common question because Miva hides its pricing until you contact them for a consultation. When Miva's pricing was last publicly available, their plans started at $79.95 a month, which is more expensive than better Miva alternatives. The fact that they've obscured their pricing may even mean it's more expensive today. A lot of ex-Miva customers have reported being charged more on short notice for good sales growth, so that's something to consider as well.
Does Miva have pre-built website templates?
Miva has only 12 themes, one of which you have to design yourself as it starts out completely blank. If you're looking for different design options for a modern, SEO-friendly store, try looking at Shift4Shop's
free ecommerce website templates
.
Does Miva charges for storage or bandwidth?
If you go over your allotted space with Miva, you will be charged per gigabyte of transfer and per 100 megabytes of storage. That means your cost for being on Miva will add up fast. With Shift4Shop, there is no limit on bandwidth or storage and you will never see any surprise fees.
Does Miva have a free trial?
No, Miva does not have a free trial. Instead, they offer a 30-day money-back guarantee. You will need to pay up front for your Miva account and then remember to cancel and request your refund within that period if you decide not to use it. Otherwise you will continue to be charged, and will not be able to receive a refund.
What is a good Miva alternative?
There are many eCommerce platforms out there that are better than Miva. If you are looking for a complete solution then Shift4Shop is your best option. Shift4Shop has every tool you need to build and grow your
eCommerce business
, and even has a free, unlimited plan if you use Shift4 Payments as your payment processor.
How do I cancel Miva?
If you are still within your 30-day refund period, you may be able to cancel your Miva account from within your dashboard. Otherwise you will have to speak to Miva by calling 800.608.MIVA to cancel your subscription. If you are looking to
switch ecommerce platforms
, book a call with a migration specialist today.