Compare your eCommerce options: 1ShoppingCart vs. Shift4Shop
Choose the best shopping cart software to lead your business to success

VS.

Switch to Shift4Shop and get a FREE product migration!
Selling online with Shift4Shop vs. selling online with 1ShoppingCart
Shift4Shop: Leading the Industry. 1ShoppingCart: Lagging Behind.
1ShoppingCart touts its email marketing features and affiliate program capabilities as huge benefits to your business, but it's missing a lot of the tools you need to run a successful online store. There's no functionality for customer reviews, coupon and promotion creation, multichannel and social selling, customer loyalty programs, or even returns management. And that's not all that's missing: 1ShoppingCart has no apps for expanding your store's capabilities or connecting it with your favorite business software, and the existing integrations are extremely limited. The dashboard is unfriendly to beginners, and you're likely to need tech support — which costs extra. Add transaction fees and high-priced plans to that mix, and you have a platform that just costs you extra time and money, and can't scale to meet the needs of a growing business.
Shift4Shop can do everything 1ShoppingCart can, and then some. All the critical missing features of 1ShoppingCart are included right out of the box with Shift4Shop. You'll have everything you need to run your online store, right from a user-friendly web-based interface. Shift4Shop has more options for everything across the board so you can manage your business how you prefer — and Shift4Shop adds no transaction fees, ever.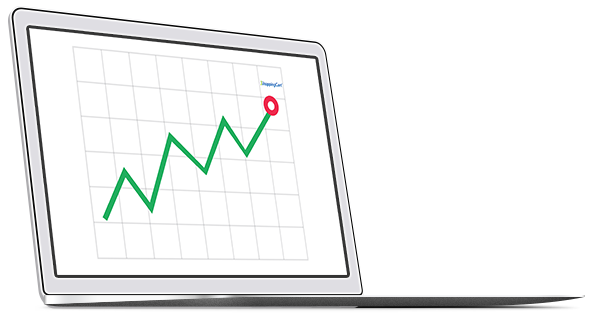 Shift4Shop vs. 1ShoppingCart feature comparison
A complete eCommerce platform vs. crucial features unavailable
Customer reviews
It's been proven that customers are far more likely to purchase an item with multiple product reviews. Reviews also allow you to identify weaknesses in your products so you can improve your inventory. 1ShoppingCart doesn't have a customer reviews feature, leaving you and your customers in the dark. But Shift4Shop has a complete review system, including star ratings and more.
Returns management
Returns are a fact of life in eCommerce and you need a means of handling them within your online store's dashboard. 1ShoppingCart has no features for processing returns, exchanges, or refunds, turning these tasks into a massive time sink. But Shift4Shop has a complete RMA system built in, so you can deal with returns in an organized, convenient fashion.

1ShoppingCart is just missing too many features to make it viable, especially considering its high price. No way for customers to leave reviews, no return system, no data feeds or Facebook store… the list goes on. Also, a note to anyone considering the free trial: you need to put in your credit card information, and you WILL be billed automatically when the trial is over. Beware."
– Former 1ShoppingCart User
Social and multichannel selling
The more customers you can reach in eCommerce, the better, which is why Facebook Store and eBay integrations can offer such an advantage. 1ShoppingCart has no means of exporting your products to Facebook or eBay, forcing you to list products and track inventory manually. Shift4Shop, however, has both of these integrations and more, and they all sync with your online store.
Get a full-featured, powerful online store with Shift4Shop
Shift4Shop has everything you need to build, run, and market a successful online store
Shift4Shop: A full suite of tools for selling online

Shift4Shop gives you everything you need to handle the different aspects of selling online. Market with email newsletters and autoresponders, set up an affiliate program and a loyalty program, utilize tons of software integrations, handle returns and exchanges, and much more.
1ShoppingCart: Missing vital capabilities

1ShoppingCart's strong points are its autoresponder capabilities and affiliate program, but everything else is underdeveloped or absent. Few payment processors, very few integrations, lack of crucial features like returns, and bare-bones shipping will leave you struggling to keep up.
Consistent Monthly Billing vs. Shifting Bill Date
Shift4Shop:
Monthly Shift4Shop plans are just that: monthly. You'll be billed 12 times a year on the same date, making it easy to budget — and even easier if you choose an annual plan. And if you choose Shift4 Payments as your payment provider, you'll unlock our free, unlimited End-to-End eCommerce plan, the only free enterprise-grade eCommerce solution in the industry.
1ShoppingCart:
1ShoppingCart bills on a strict 4-week cycle, not by month. This means your billing date will slowly shift across months, and you'll end up being charged 13 times per year, not 12. As you can imagine, this is disastrous at worst and inconvenient at best, to anyone's budget — and 1ShoppingCart doesn't have a free plan at all, let alone as powerful as Shift4Shop's.
Thousands worldwide choose Shift4Shop
See what our clients have to say about us
Shift4Shop combines functionality of ecommerce with brand design elements. The consumer experience on desktop and mobile platforms has enhanced Sarabeth's website sales. Sarabeth's has the best of both worlds without the expense of a custom website.
Thank you Team Shift4Shop!
No other cart has the features, customization, and ease of use that Shift4Shop offers. Customizability is my favorite thing about the cart. We've enjoyed using it for years, and will continue to do so.
The software is easy to use and the technical support service is top notch all the way. We are so happy with their expertise, reliability and attention to details that we recommend Shift4Shop to anyone.
Shift4Shop offers more features which is the main reason I switched. I've used design services 3 times. I gave them little information to go off of & they were able to create a great design each time!