Which eCommerce platform is right for you?
Choosing the right eCommerce platform is a vital part of success

VS.

Switch to Shift4Shop and get a FREE product migration!
Selling on Shift4Shop vs. selling on Etsy
Shift4Shop: Unlimited Products and Sales. Etsy: Listing Fees and Transaction Fees.
Just because Etsy doesn't charge a monthly fee doesn't mean it's free. You'll pay every time you list your items, and then when they sell, you lose out on 3.5% per transaction. Sure, with small items or few sales, you may not bemoan the loss of a few cents. But over time, this adds up, and losing 3.5% of a bigger sale can feel like a significant hit, and it only feels worse with each sale. You're also required to use Etsy Payments, which charges yet another fee that depends on your country. Soon you'll feel bogged down by Etsy's fees, because the more money you make, the more you lose.
Shift4Shop allows you to list as many products as you want with no additional charge, and we never punish you for success by cutting into your profits with transaction fees. We also offer an eCommerce industry first: a completely free, unlimited plan accessible by selecting Shift4 Payments as your payment provider. Using Shift4 Payments allows you to start accepting credit cards and several alternate payment types within minutes, and unlocks our free End-to-End eCommerce plan, which includes all our features and places no limits on products, bandwidth, or anything else. There's simply no better (or more cost-effective) way to sell online.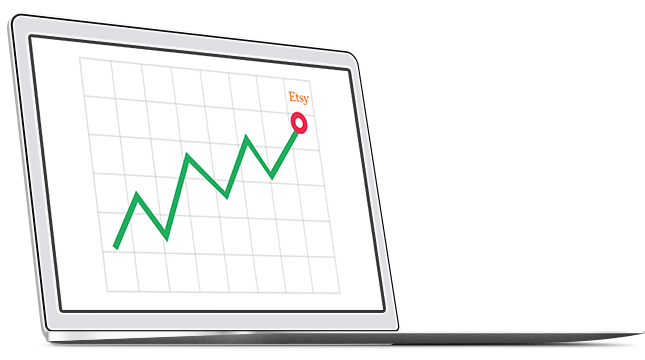 Compare Shift4Shop vs. Etsy: features and functionality
A full-featured online store of your own vs. fading into a crowd of millions of sellers
Building your brand
With Etsy, you have minimal control over your storefront. Sure, you can add a banner, but for the most part your store will look like every other Etsy store, making it nearly impossible to achieve the type of strong branding that develops customer recognition and trust. But with Shift4Shop, you have complete control over all aspects of your design, so your store can truly reflect you as it should.
Marketing
Etsy leaves you on your own when it comes to marketing. You have no built-in tools for proven email marketing methods like newsletters, so you'll have to use a third-party service. Shift4Shop, however, comes with built-in newsletter and social media marketing features. You can still use an outside service like MailChimp if you prefer to — and it's fully integrated. Plus, our SEO is the best in the industry, so your site can start racking up the rankings in no time.

"Etsy's customer support is nowhere to be found. They say you can email or call them, but I couldn't find the actual contact information and I've never found a way to get through and talk to a person. The Seller Handbook can only do so much."
– Former Etsy Seller
Customer support
Etsy users frequently report that they've never been able to get help or customer service of any kind, and that talking to a representative is out of the question. Customers are expected to teach themselves using online resources. With Shift4Shop, however, you'll have access to a real person 24/7 every day of the year.
Manage your business your way with Shift4Shop
Your business, your brand, your own online store — Shift4Shop makes it all possible
Shift4Shop: Your own customizable website to promote your brand

Shift4Shop offers a huge selection of free themes to get you started, and every one of them can be customized however you like. Use our robust built-in tools or even get into the code if that appeals to you. You have full control over every aspect of your store's appearance.
Etsy: Be one of millions with a near-identical storefront

Etsy only allows minimal customization, so there won't be much to differentiate you from millions of other sellers. Plus, your products are mixed with others in search results, further diluting your branding power.
Customer Focus vs. Keeping Investors Happy
Shift4Shop:
At Shift4Shop, our dream is to see you succeed. Our day-to-day operations and platform are all focused on doing what's right for our customers and building the best online stores possible.
Etsy:
Since Etsy became a publicly-traded company, changes have been introduced that have left their customers unhappy, and feeling neglected in favor of investors.
Thousands of successful online stores trust Shift4Shop
See what our clients have to say about us
"I moved to Shift4Shop after two years with other cart and couldn't be happier. I've saved an untold amount of money on not only my monthly plan cost, but in transaction fees too"
"I originally went with Etsy for their big name, only to find myself constantly in search of an app that could perform the most basic of functions. At Shift4Shop, everything I need to manage my store is included as a built-in feature."
The software is easy to use and the technical support service is top notch all the way. We are so happy with their expertise, reliability and attention to details that we recommend Shift4Shop to anyone.
Shift4Shop offers more features which is the main reason I switched. I've used design services 3 times. I gave them little information to go off of & they were able to create a great design each time!