Why do eCommerce Solutions Charge a Transaction Fee?
Your software provider pricing model might include keeping a percentage of your sales
eCommerce software, or shopping cart software, is the system on a website that creates a functioning online store. There are several types of eCommerce software, including full website platforms that let you build a complete online store of your own, and transaction fee-based marketplaces that allow you to list items among other sellers to be seen by a large audience.

The best eCommerce software is built to provide you with everything you need for success, including the ability to define your brand and stand out from competition, eCommerce automation tools to help manage customers and inventory, and more. Marketing features are also extremely important, such as scheduled email newsletters which have been shown to be among the best marketing automation for eCommerce.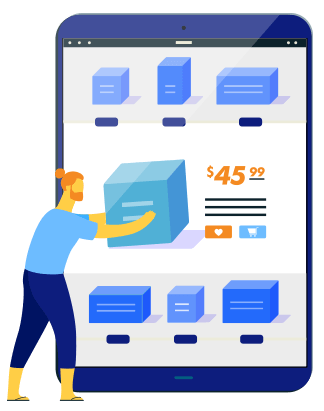 Many eCommerce platforms charge transaction fees on each of your sales, often in addition to a monthly fee for use of the platform or for the increased selling capability of an advanced seller account. Whether you decide to sell on a large marketplace like Amazon, eBay, or Etsy, or opt for another transaction fee-based eCommerce platform, you're going to sacrifice some of your profits. Plus, while large marketplaces have their advantages like huge numbers of customers and a great chance for exposure, it's also impossible to build a memorable brand among so much competition. You also need to follow marketplace policies rather than doing business the way that works best for you.
Of course, this doesn't mean you can't thrive on a large marketplace, but they're best used as an additional sales channel alongside your own fully-branded online store website. And some transaction fee-based providers don't even have the advantages of these large marketplaces, essentially costing you more money for no benefit.
How to get rid of transaction fees?
Shift4Shop is committed to our merchants' success, which is why we don't penalize store owners for having a successful business. Many ecommerce providers charge a transaction fee on every sale, sometimes up to 7%! With this type of fee structure, most successful stores have monthly bills in excess of $1,000.00, but are hesitant to switch shopping carts in fear that their search engine rankings and sales will suffer, or that it will be too difficult to do so.
Cost Comparison of eCommerce Solutions
Free, unlimited plan fully scalable to enterprise

No fees other than your plan, unless you purchase apps or other services.

Yes, But Not a Whole Site of Your Own

$39.99/mo. if you plan on selling more than 40 items per month

310 million active users (includes sellers and customers)

Yes, But Not a Whole Site of Your Own

Can sell without eBay store; eBay Stores cost $7.95/mo. – $349.95/mo. or annual-only Enterprise for $2,999.95/yr.

Complicated fee structure dependent on number of listings, category and value of items, and eBay Store level. For example, a busy seller could be charged a $0.35 listing fee per item and 10% of its final sale price.

175 million active users (includes sellers and customers)

Yes, But Not a Whole Site of Your Own

Qualifying sellers can subscribe for their own Etsy store for $10/mo. ($20/mo. after Jan. 1, 2019)

$0.20 listing fee to list an item for 4 months, plus transaction fee of 5% when sold, plus required fees for Etsy Payments. Additional fees may apply depending on marketplace usage.

35.33 million active users (includes sellers and customers)

Monthly plans from $29/mo. – $299/mo. or limited social media-only plan for $9/mo.

Transaction fees from 0.5% – 2% depending on plan if using a payment processor other than Shopify Payments. Missing features require apps that rack up charges quickly.

eCommerce-enabled monthly plans from $26/mo. – $46/mo. or save with annual plan

$26/mo. Business plan charges 3% transaction fee on all sales; waived for higher plans.

Monthly plans from $33.95/mo. – $254.95/mo. or save with annual plan

Transaction fees from 0.75% – 1.5% depending on plan. Many important features require paid apps.
*Information accurate as of 11/27/18
Understanding Shopping Cart Software Features
Shopping Cart
A shopping cart allows visitors to make purchases. It provides a way to create a temporary list of items via an "add to cart" function, and then to complete the purchase of the items through a virtual checkout in which the customer enters their payment and shipping information. Payment is collected through a connected payment processor and the order is sent to the online store owner for fulfillment.
Product Pages
Product pages provide a unique website page for every product on an eCommerce website. Product pages include photos of the product, information, pricing, and a button for adding the product to the shopping cart. Some eCommerce software allows additional content on product pages such as product reviews and a products Q&A section.
Ease of Use
Ease of use refers to how easy the eCommerce software is to use and understand. Ease of use affects the level of difficulty an online store owner will face when they perform various tasks with the software, such as adding products, managing orders, and customizing their website. Difficult software often results in additional expenses such as hiring developers or training employees.
Learning Curve
The learning curve represents how easy it is to learn how to use the software effectively. A minimal learning curve means the software is friendly to beginners. A steep learning curve means a new user may find themselves lost and struggle to understand how to accomplish what they want to do with the software.
Responsive Sites
Responsive design refers to a website that is designed to be friendly to all mobile devices such as tablets and smartphones, and work equally well on all of these systems. "Responsive" in this context means a website "responds" to a device by adapting its design to fit the screen. Responsive websites are ranked higher by search engines because today's internet users prefer to visit responsive sites.
Data Export
Data export provides a quick way of creating a spreadsheet or CSV file that lists a large amount of the online store's data in an organized manner. Exports can include customer information lists, product information lists, order lists, and more. Data export is often needed for backing up information, for accounting purposes, and for import into a new or rebuilt version of the online store.
Price
This is how much the eCommerce software costs. Price can include setup fees, initial licensing fees, and other beginning fees, but not your initial hosting fee or similar fees. Your own startup costs may vary if you decide to hire a developer to perform any setup for you. Some eCommerce software have multiple plans available, while others are free to use.
Ongoing Costs
These are the costs an eCommerce merchant will need to continue to pay in order to use the eCommerce software. These costs can take the form of monthly or annual fees for the software itself or other components needed for the software to run, like web hosting. Costs for upgrades and support are also included in ongoing costs.
Number of Users
This is the approximate count of currently live websites using this platform. An eCommerce platform's popularity can be influenced by ease of use, low costs, ease of obtaining the software, relation to another popular platform, or effectiveness of its marketing and should not be assumed to represent the overall quality of the software for running an online store.
Still need help choosing
the right solution for your business?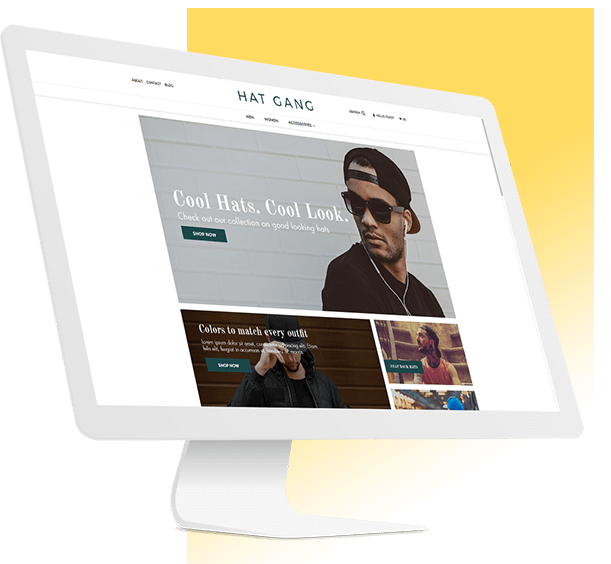 Shift4Shop is an all-inclusive hosted eCommerce solution that includes everything you need to build and run a successful online store of your very own. Build and promote your unique brand without your products being mixed into a large marketplace or subjected to listing fees and transaction fees. Define your own store policies rather than letting a large marketplace choose them for you, and sell products without arbitrary restrictions. You can still connect to popular marketplaces like Amazon and eBay to achieve the best of both worlds, and manage all your inventory and sales from your Shift4Shop dashboard. Shift4Shop includes advanced PCI-compliant security, 24/7/365 free support, powerful marketing and SEO tools, and robust order management and reporting.
Shift4Shop offers a free, unlimited and fully scalable plan that will let you unlock the potential of your business.
Shift4Shop is the most complete eCommerce solution
Installation Setup
All-inclusive website, blog, and more
No need to understand programming
Images scaled automatically
Free support, all day, every day
Domain transfer and 1-year registration included
Large selection of free store themes
Migrate your existing website
Import and export products in bulk
Flexible and built-in payments through Shift4
No graphic design knowledge necessary
Bulk image uploads available
Data import for products and customers
Marketing
The most advanced marketing tools in eCommerce
Every facet of Shift4Shop's platform is built to give you an edge, including our complete set of free marketing tools. You'll have access to features that let you implement all the marketing strategies the pros use, like special promotional events, coupons and gift cards, an affiliate program, a loyalty program with reward points, and more. Reach customers with the proven method of timed, optimized emails to build relationships and improve satisfaction.
Expand your audience further with Shift4Shop's advanced SEO tools, built right into the platform to make the technical aspects simple. Our social media integration lets you sell on Facebook, get pinned on Pinterest, and encourage customers to share your products with others.
At Shift4Shop, we can confidently say we offer a more complete set of marketing and SEO tools out of the box than any other platform, and they're built to help you make your mark.
Store Design
Beautiful storefronts from professional designers
It's not easy to convert a visitor into a shopper, especially today. Internet users only give a website about 5 seconds to make an impression on them before they decide to leave and look somewhere else.
But with Shift4Shop, you have a selection of attractive and compelling responsive themes that let you create a website built to convert — no programming necessary. No matter what "look" your brand requires, you'll find it in Shift4Shop's vast theme selection: just pick a design that works for your products and industry, and off you go.
Need further customizations to make your brand really shine? You'll have full access to the HTML and CSS used in your online store's design, giving you complete creative control over every pixel on every page. Make changes directly in your browser or do it through FTP, and enjoy absolute freedom of design.
Go a step further and add great features like a gorgeous Homepage Carousel, Recently Viewed Items, Quick View for products, and the Single Page Checkout that online shoppers love. Plus much, much more.
Reporting
All the data at your fingertips
Shift4Shop's in-depth reporting features allow you to identify your strengths and weaknesses, so you can learn what to improve, and what works best.
Access detailed reports generated from the data automatically gathered and compiled by the Shift4Shop platform. In your Online Store Manager, you'll find reports relating to:
Business
Customers
Inventory
Marketing
Payment & Shipping
Products
Sales
Statistics
As a Shift4Shop store owner, you'll always have the data you need to understand where your business is thriving, and learn what you can do better.
Products
Full-featured product management system
Shift4Shop makes store and product management easy with our intuitive web-based Online Store Manager. Log in from anywhere to create, edit, and manage your products however is needed, and organize them in as many categories as the situation requires.
You'll be equipped with a robust selection of features and tools built to make selling online easy — and fun, too. Upsell and cross-sell to boost sales, implement waiting lists for new products, let customers create shareable wish lists, and encourage interaction with product reviews and Q&As. Sell physical products, digital downloads, or both.
Build attention-grabbing product pages with multiple images, dynamic zoom, and video. Selling products with lots of variants like color or size? Include them all with Shift4Shop's unlimited Product Options feature!
At Shift4Shop, we're always watching out for the next vital eCommerce feature so we can make it available to you right in your Online Store Manager.
Orders
Fast and easy order processing
Dealing with customer orders is easy with Shift4Shop. Quickly process, print, edit, and update customer orders from your easy-to-use Online Store Manager. Print shipping labels, process returns, take phone orders, and create customer groups for customized pricing levels.
Want to expand via dropshipping and reach the next level? Shift4Shop's built-in dropshipping feature makes setup easy. Smooth your operations out further by using our QuickBooks integration, which lets you instantly and automatically synchronize all your Shift4Shop orders and inventory with QuickBooks desktop.
From the smallest startup to the largest enterprise, Shift4Shop's order management system is designed to help you grow and hit all your targets. Built-in advanced reporting keeps you apprised of successful strategies, while other powerful tools like FraudWatch and eBay and Amazon Order Integration keep your online store on the cutting edge.
Shipping
A full set of tools for fast and easy shipping
As a Shift4Shop store owner, you'll have access to a complete set of shipping features to help you get orders out the door without difficulty.
Connect your store to major shipping carriers through Shift4Shop's powerful integrations. Keep customers informed of shipping costs with real-time rates from carriers like USPS, FedEx, UPS, DHL and Canada Post, for no extra charge.
If flat-rate shipping is right for your business, you can set it up quickly with Shift4Shop. Offer rates based on order weight, item quantity, ZIP code, or total order value. Shift4Shop makes it easy to customize your shipping for your exact business needs.
Need additional Information?