Compare your eCommerce options
Choose the right eCommerce platform to start and grow your business

VS.

Switch to Shift4Shop and get a FREE product migration and up to 12 extra months of service FREE!
The real cost of Shift4Shop vs. the real cost of Magento
Shift4Shop: Lightning-Fast, Affordable, and Easy to Use.
Magento: Expensive, Slow, and a Steep Learning Curve.
If you want to get your online store up and running with a minimum of hassle, Magento is not for you. It may be powerful, but it's overwhelming for beginners, and customer support is reserved for Enterprise-level plans. Your business will never get off the ground if you can't start it up, and with Magento you're pretty much on your own unless you spend thousands of dollars a year. All Magento themes are made by third parties, which also charge for a service agreement before you'll get any support. You'll need coding knowledge to customize your site, and it's easy to mess up and have to start from scratch, so you'd be best off hiring a developer— and good developers don't come cheap! You'll also need to pay for your own hosting and SSL. Overall, even using the free version of Magento's platform, you need to be prepared to spend a lot of time and money to get it all working.
Shift4Shop includes all the features you'd have to pay extra for with Magento: hosting, SSL, support, and more. We offer plenty of themes developed in-house by the same team that built the Shift4Shop platform, so you know they'll always work perfectly. Plus, customization is as simple with no coding required.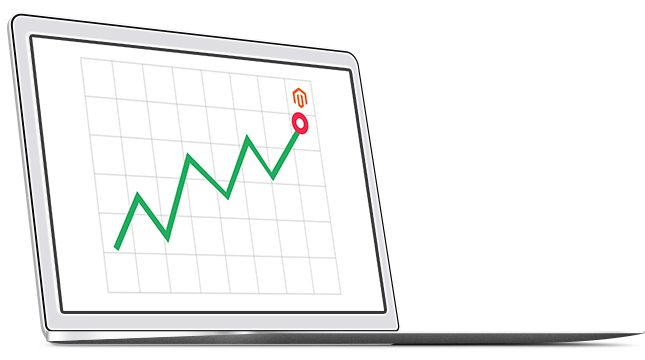 Shift4Shop vs. Magento functionality comparison
Easy-to-use and all-inclusive vs. hard to learn and with extra expenses
Hosting and security
To set up a Magento store, you'll need to pay for your own web hosting— and it's not lightweight software so only a powerful host will do. Unless you shell out for high-level hosting, your site will drag and perform poorly, losing customers. You'll also have to buy an SSL certificate, as Magento doesn't include this vital security feature. But with Shift4Shop, you get reliable hosting and SSL all in the same package.
Accessibility and support
Unless you're already a large, lucrative company, you're out of luck with Magento. The platform is too advanced for small businesses, and still very expensive for larger ones— and you'll need an Enterprise plan to get the support you need to learn the software. Shift4Shop, however, is designed for businesses of all sizes and any budget, and our team is always ready to help you for no extra charge.

"I tried setting up a Magento store and had no idea where to start. I did manage to install the software, but it was broken almost immediately by a badly-coded theme. I couldn't get any help with this because theme support was nonexistent and Magento wouldn't talk to me because I wasn't a big business. Switching to Shift4Shop was a breath of fresh air. After my experience with Magento, I had no idea running an online store could ever be this easy and fun."
– Ex Magento Customer
Customization and convenience
Any but the most simplistic customization of your Magento store is going to require coding knowledge. To get the most out of the platform you'll need a deep understanding of PHP and CSS. And if you make one mistake, look out: your whole store could be completely broken. With Shift4Shop, you can customize your storefront through simple drag-and-drop. If you want to edit code, you can do that too, with much less risk.
Maintain control of your business
Shift4Shop gives you the tools and freedom to manage your store how you see fit
Shift4Shop: A complete, feature-rich eCommerce solution

With Shift4Shop, everything is included: hosting, security, support, and more. Plus, our servers have 99.99% uptime and your site will run smoothly, no matter your location.
Magento: Heavyweight software requiring extra investment

Magento requires you to pay extra for hosting and SSL, and support is only available for expensive plans. Their cumbersome software often runs very slowly.
Easy to learn and customize vs. Huge learning
curve and fewer choices
Shift4Shop:
Shift4Shop's platform is intuitive and easy to learn, and we offer tons of free and reasonably-priced premium themes that can work for you, no matter what you're selling. Our WYSIWYG editor makes customization a breeze— and if you want to edit code, you can do that too.
Magento:
Magento is so complex that new users are often hopelessly lost. You'll need coding knowledge for any more than just the simplest customizations, and your choice of themes is limited— and the themes that are available are often only useful for specific industries.
Thousands worldwide choose Shift4Shop
See what our clients have to say about us
"I moved to Shift4Shop after two years with Shopify and couldn't be happier. I've saved an untold amount of money on not only my monthly plan cost, but in transaction fees too"
"I originally went with Magento for their big name, only to find myself constantly in search of an app that could perform the most basic of functions. At Shift4Shop, everything I need to manage my store is included as a built-in feature."
The software is easy to use and the technical support service is top notch all the way. We are so happy with their expertise, reliability and attention to details that we recommend Shift4Shop to anyone.
Shift4Shop offers more features which is the main reason I switched. I've used design services 3 times. I gave them little information to go off of & they were able to create a great design each time!