What is an Open-Source eCommerce Solution?
Looking for a free open source eCommerce platform? Learn the pros and cons
Also called shopping cart software, eCommerce software is installed on a website to implement the features of an online store including products and checkout. The best eCommerce software goes even further and includes functionality for blogging, marketing, and other features you'd expect to find in a popular online store. Several eCommerce automation tools can also be included to help process and organize orders, as well as the ability to set up scheduled email newsletters, which studies show are the best marketing automation for eCommerce.
There are several types of shopping cart software, including:

Free shopping carts
Open source ecommerce platforms
Licensed shopping carts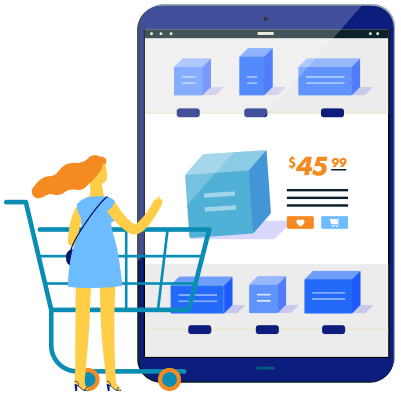 What is open-source software?
Open-source software is released free to the public with permission for anyone to edit and customize the software for their own needs. Most free shopping carts are open source. Using open source software requires the online store owner or developer to install the software themselves and maintain all updates. Unfortunately, this means free, open-source shopping cart software is never really free: it requires resources in time if not money. All responsibility for the installation and upkeep of open-source software falls to the person or business making use of it, and development and support are hard to find for free.
What is licensed software?
Licensed shopping carts operate in a similar manner with a few key differences. Licensed software is developed by a single company, unlike open source, and the software is fully owned by the developer rather than open to the public. To use the software, a merchant must purchase a license which allows them to install the software on their own website. This can be a one-time or repeating fee, but one-time fees usually come with some restrictions. You may only have access to tech support and updates for a limited time after you purchase the license.
Whether you use open source or licensed software, you'll need to install, maintain, and update it yourself for the life of your website. The extra costs and manpower needed can outweigh the benefits, but let's take a closer look at several free, open source, and licensed shopping carts to see how their features stack up.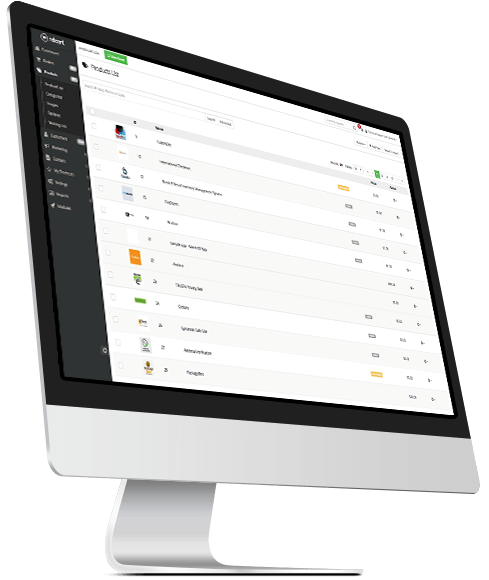 The Challenges of Open-source platforms
Manual Installation, development, and maintenance.
Requires a hosting provider, developer and designer to setup.
Many security risks make it very hard to be PCI compliant.
No technical support available or extremely expensive.
No automatic backups, you're responsible for your data.
No automatic software updates or security patches.
High startup costs (software might be FREE but will require installation & customization).
Comparison of eCommerce Solutions Features
Free, unlimited plan fully scalable to enterprise

No fees other than your plan, unless you purchase apps or other services.

$499 annual fee to access upgrades and support, plus thousands of dollars in hosting, design, and development.

Fees for support, important features locked behind paywall, plus hosting and security.

Hosting, security, and addons needed for your online store.

2,269,945 (not all Joomla sites are online stores)

Powerful hosting required, plus security, third-party support, and custom development.

Price includes a perpetual license but access to updates for only one year; renewal is full price. Plus, hosting, security, and development costs.

66,828 (includes both hosted and licensed versions)

Hosting, security, and addons, and a professional developer is highly advised. $299 and up for 3 months of support.

Hosting, security, and addons cost extra, and hiring a developer may be required.

Hosting, security, and addons, and a professional developer is highly advised. $699 – $1,399 annually for limited support, plus costs for hosting, security, addons, and possibly development.

Free software, $19.99 for user guide

Hosting and security, plus thousands of dollars in charges for upgrades, support, addons, and needed updates.

$995-$2,990 depending on package

An experienced Django programmer is required for store management, plus costs for hosting and security.

Hosting and security, plus charges for support and updates after one year.

Hosting and security, paid addons needed to get essential features, possible development costs.

Hosting, security, support, and software updates. Potential license upgrades and addon costs to gain more features.

Free version available: licenses cost $495 - $5,995

Hosting and security, very likely to need to hire a programmer.

Hosting and security, very likely to need to hire a programmer.
*Information accurate as of 11/27/18
Understanding Open-source Shopping Cart Features
Shopping Cart
If there is one feature that truly marks a website as an online store, it would be the shopping cart. This allows visitors to create orders by adding products to their list. The shopping cart feature then takes them through a checkout process, where they provide the information needed for payment and shipping. With an open source eCommerce solution, store owners may have to integrate payment gateways themselves.
Product Pages
Customers often want to know as much about a product as they can before committing to a purchase decision. This is why eCommerce solutions provide people with the tools to create distinct product pages on their online store. In this space, they can describe the item and its features, list the price, and show photos. Of course, there must be an "Add to Cart" button where people can see it.
Ease of Use
Open source platforms may be more difficult to use than hosted eCommerce solutions. While the latter handles most of the coding and programming, that often means they restrict their users from customizing at the coding level. The former leaves much of it available to the user, with the idea being to give users more freedom in their site's back-end processes. However, this means that if they want to perform maintenance or extensively customize the back-end, they will need some level of knowledge in working with code — meaning less ease of use.
Learning Curve
"Learning curve" describes how simple or challenging it is to learn how to masterfully use an eCommerce solution. Software with lower learning curves take less time and effort to pick up. Software with steeper learning curves may be more complicated and require lengthy training. Open source solutions generally have a higher learning curve than hosted ones because its users have to do more themselves.
Responsive Sites
Responsive sites are designed to adjust to function well on any device, regardless of the size of the screen. This removes the need to create different versions of the same website for desktops and mobile devices. Businesses must find an eCommerce solution that makes their sites responsive because people are increasingly doing their shopping on their smartphones, and they often ignore stores that are not mobile-friendly.
Data Export
People who run an eCommerce business may, one day, have to move their store data onto a new site, or give information on their company's orders to another party for accounting. There are occasions when mass transfers of data are necessary, and data export features can make this process easier for store owners. These tools can quickly structure bulky amounts of data into manageable CSV or spreadsheet files that can then be sent with greater ease.
Price
Many open source eCommerce solutions are free, with no need to license the platform for your own use. Some platforms also offer free integrations for basic apps and services. However, while getting the website up and running may not require any payment, integrating more advanced tools and working on well-designed templates may come at a high price. Businesses using open source solutions would also have to pay any programmers they hire to customize the site's code.
Ongoing Costs
Unlike with hosted eCommerce solutions, open source ones may not require regular payments for continuous use. However, ongoing costs can take the form of fees for customization, maintenance, software upgrades, technical support, and more. While many open source solutions are free to use, there may still be plenty of expenses involved to keep an online store running smoothly.
Number of Users
If one adds up how many live websites are running on an eCommerce solution, the sum would be the platform's number of users. This number does not always correlate with quality, which may itself be one of many reasons that a business may use a platform. With open source solutions in particular, influencing aspects may include the freedom to customize their code, the lack of any price for downloading the software, and extensive marketing and promotion.
Still not sure if an open-source solution
is good for your business?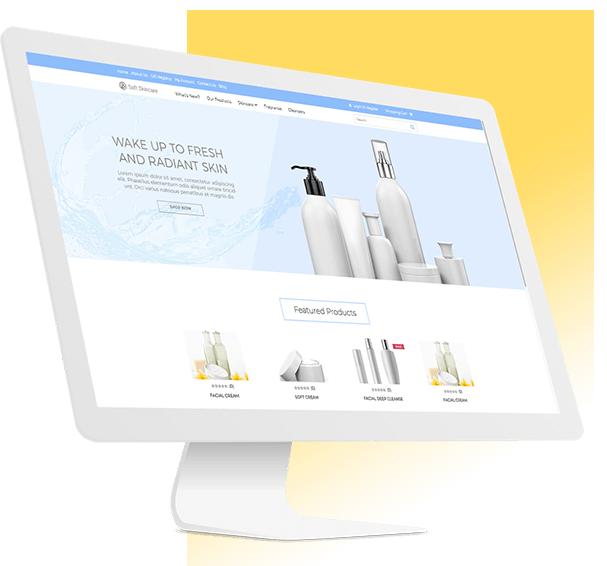 Unlike the rest of the shopping cart software on this list, Shift4Shop is neither licensed nor open source. It is an all-inclusive eCommerce solution that includes everything you need, including web hosting, advanced PCI-compliant security, 24/7/365 free support, and a full-featured online store platform. With Shift4Shop you can create a complete eCommerce website and include as many products, categories, and extra pages you need. A full set of marketing and SEO tools are included to help you reach your customers, and you'll also have access to a powerful order management and reporting system. Shift4Shop stands out from all other eCommerce software by offering a free, unlimited, fully scalable plan. Instead of dealing with all the uncertainty and unexpected costs of "free" and licensed software, you can have everything you need to run your online store together from a single provider.

Joomla is a popular content management system, which provides tools for building and editing a website. It is possible to add a shopping cart and other eCommerce features to a Joomla website by installing addons. However, since these addons aren't part of the original software, you're faced with the issues of maintaining each part of your website individually with addons that may not work smoothly together. This also makes Joomla ineffective for a growing business, as it won't be long before the needs of your website outgrow the platform. It's also overall difficult to use unless you have website coding knowledge, and support is only available through community forums.
Magento is an extremely powerful eCommerce platform aimed at Enterprise businesses, although they do have a paid Small Business package available. Most Magento users are attracted to its free version, with the desire to quickly build a competitive online store. But Magento is heavy software that requires powerful hosting to run your site at a speed that won't inconvenience customers, not to mention the difficulty involved in customizing your storefront. The closer you look at Magento the more you realize it's only suitable for large enterprises with plenty of resources to spend on servers, expert coding and design, and security measures needed for PCI compliance.

ZenCart is a bare-bones eCommerce platform with a low feature count that you'll need to upgrade with extensions, many of which don't work well together. The software is difficult to install, use, and customize, and updates may break your store. Security is also an issue as some themes and modules cause problems that can cost your store its PCI compliance. Plus, there's no official support, and all the help you need will have to come from the community. You'll probably find yourself needing to hire an expert developer along with the costs of hosting and security.

PrestaShop may be free to use, but you'll need to pay a lot for support. Even the instruction manual costs $19.99, and access to support is based on an annual plan that defines how many hours per month you get to talk to someone who can help you. And you will need support — unless you already have a deep understanding of code. You're also going to need to use addons to expand on PrestaShop's limited capabilities, which carry an additional charge and can also cause problems with your website by incorrectly working together. PrestaShop takes a lot of work and far more money than the word "free" would suggest.

osCommerce is a first-generation open-source eCommerce platform, meaning it's been around a long time. Unfortunately it hasn't kept up with modern development, resulting in a bare-bones cart that's hard to use and gets dragged down by large numbers of products. Like all other open-source carts, you'll need to pay for web hosting and security. Worse, you're going to need a professional developer to keep your osCommerce website secure and up-to-date, since osCommerce carries a history of data breaches. It's also a difficult platform to use: outdated interface, lack of templates, support available only through the community forum, and heavy reliance on addons make everything about osCommerce a hassle.

OpenCart touts itself as a free solution, but the download does not come with many of the most crucial features you need for your online store. This is not an exaggeration: you need things like hosting for your website, and PCI-compliant security for your customers. OpenCart may not charge you to download their software, but they do charge for those necessities and more. On top of all that, their store builder is not user-friendly, meaning that hiring a developer is just one more cost for using this "free" platform.

Miva Merchant offers both a hosted and licensed eCommerce platform, and both versions fall under the same limitations: extremely high price, time-consuming setup, and difficult customization. Regardless of whether you're looking at the hosted or licensed version of Miva Merchant, it's easy to see this is an eCommerce platform intended for large businesses. A software license only comes with a year's worth of updates and costs just under $20k, and you'll need to pay full price again to access updates after your year is up. Even Miva's cheapest option, a hosted "starter" online store, costs $79.95/mo. and you can be boosted to a higher plan without your knowledge if your store starts doing well — plus, be charged for bandwidth and storage overages.

nopCommerce is a complex eCommerce platform not recommended for business owners that can't afford to have a developer on staff. The hidden costs mount up quickly with this platform, and you'll find yourself needing to spend much more than expected. Its features are fairly well-rounded, but it takes custom coding to get the most out of it, even if you purchase addons (which themselves can be quite expensive). Plus, support also has a fee, leaving you to turn to the community, which isn't always helpful. Store design is likewise difficult, with even the theme editor plugin coming at a cost — and it may not even work for the theme you want to use, so you're better off with custom design as well. Despite nopCommerce's software itself being free, it doesn't compare to Shift4Shop whatsoever.

AspDotNetStorefront is a relatively powerful and feature-rich eCommerce platform available in a licensed version and a hosted version. However, users report that it's confusing and expensive. It's not immediately clear what features are available unless you delve into the hundreds of pages of its online user manual, which you'll need to do to learn how to use the software. AspDotNetStorefront users also frequently report additional expenses — the licensed version already costs $5,500, but to get needed software upgrades and support you're required to sign up for $499 annual recurring billing, and many features are locked behind apps with additional costs. That, plus the costs of web hosting, security, design, and development customization makes AspDotNetStorefront a poor choice for most businesses.

ProductCart is a polished and powerful licensed eCommerce solution, but its features are limited and price is sky-high. While the initial license costs less than some other licensed shopping cart software, you'll be charged for everything afterward, including support ($395/yr. for the first 12 months, then $295/yr. afterward), software updates ($195), package upgrades ($995), and even addon updates that are required to continue using an addon after updating the main software. QuickBooks integration costs $495. A look at ProductCart's pricing makes it clear you'll be paying a huge price for everything.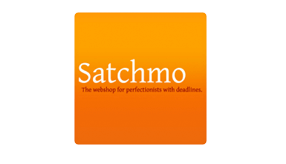 Satchmo is an open source eCommerce platform written in Django. It contains a fair amount of built-in features, but expert programming knowledge is needed to use it. Online store owners wishing to use Satchmo will quickly discover the need to hire a full-time developer to handle store design and management. As for support, Satchmo's website hasn't been updated in years. It's clear Satchmo was designed by programmers, for programmers: not for a business owner wanting to open an easy-to-use online store.

SunShop offers a licensed version of their eCommerce software as well as a cloud-hosted version. While it includes many of the most important eCommerce features, SunShop falls short in nearly every category. PHP knowledge is essential to make the best use of the software, template design is lacking, and integrations are low in number. Plus, support comes with a price tag. Considering SunShop is known to be buggy, you'll have no choice but to pay for support or hire your own developer. SunShop is also limited in the number of expansions and integrations you can use.
Shift4Shop is the most complete eCommerce solution
Installation Setup
All-inclusive website, blog, and more
No need to understand programming
Images scaled automatically
Free support, all day, every day
Domain transfer and 1-year registration included
Large selection of free store themes
Migrate your existing website
Import and export products in bulk
Flexible and built-in payments through Shift4
No graphic design knowledge necessary
Bulk image uploads available
Data import for products and customers
Marketing
The most advanced marketing tools in eCommerce
Every facet of Shift4Shop's platform is built to give you an edge, including our complete set of free marketing tools. You'll have access to features that let you implement all the marketing strategies the pros use, like special promotional events, coupons and gift cards, an affiliate program, a loyalty program with reward points, and more. Reach customers with the proven method of timed, optimized emails to build relationships and improve satisfaction.
Expand your audience further with Shift4Shop's advanced SEO tools, built right into the platform to make the technical aspects simple. Our social media integration lets you sell on Facebook, get pinned on Pinterest, and encourage customers to share your products with others.
At Shift4Shop, we can confidently say we offer a more complete set of marketing and SEO tools out of the box than any other platform, and they're built to help you make your mark.
Store Design
Beautiful storefronts from professional designers
It's not easy to convert a visitor into a shopper, especially today. Internet users only give a website about 5 seconds to make an impression on them before they decide to leave and look somewhere else.
But with Shift4Shop, you have a selection of attractive and compelling responsive themes that let you create a website built to convert — no programming necessary. No matter what "look" your brand requires, you'll find it in Shift4Shop's vast theme selection: just pick a design that works for your products and industry, and off you go.
Need further customizations to make your brand really shine? You'll have full access to the HTML and CSS used in your online store's design, giving you complete creative control over every pixel on every page. Make changes directly in your browser or do it through FTP, and enjoy absolute freedom of design.
Go a step further and add great features like a gorgeous Homepage Carousel, Recently Viewed Items, Quick View for products, and the Single Page Checkout that online shoppers love. Plus much, much more.
Reporting
All the data at your fingertips
Shift4Shop's in-depth reporting features allow you to identify your strengths and weaknesses, so you can learn what to improve, and what works best.
Access detailed reports generated from the data automatically gathered and compiled by the Shift4Shop platform. In your Online Store Manager, you'll find reports relating to:
Business
Customers
Inventory
Marketing
Payment & Shipping
Products
Sales
Statistics
As a Shift4Shop store owner, you'll always have the data you need to understand where your business is thriving, and learn what you can do better.
Products
Full-featured product management system
Shift4Shop makes store and product management easy with our intuitive web-based Online Store Manager. Log in from anywhere to create, edit, and manage your products however is needed, and organize them in as many categories as the situation requires.
You'll be equipped with a robust selection of features and tools built to make selling online easy — and fun, too. Upsell and cross-sell to boost sales, implement waiting lists for new products, let customers create shareable wish lists, and encourage interaction with product reviews and Q&As. Sell physical products, digital downloads, or both.
Build attention-grabbing product pages with multiple images, dynamic zoom, and video. Selling products with lots of variants like color or size? Include them all with Shift4Shop's unlimited Product Options feature!
At Shift4Shop, we're always watching out for the next vital eCommerce feature so we can make it available to you right in your Online Store Manager.
Orders
Fast and easy order processing
Dealing with customer orders is easy with Shift4Shop. Quickly process, print, edit, and update customer orders from your easy-to-use Online Store Manager. Print shipping labels, process returns, take phone orders, and create customer groups for customized pricing levels.
Want to expand via dropshipping and reach the next level? Shift4Shop's built-in dropshipping feature makes setup easy. Smooth your operations out further by using our QuickBooks integration, which lets you instantly and automatically synchronize all your Shift4Shop orders and inventory with QuickBooks desktop.
From the smallest startup to the largest enterprise, Shift4Shop's order management system is designed to help you grow and hit all your targets. Built-in advanced reporting keeps you apprised of successful strategies, while other powerful tools like FraudWatch and eBay and Amazon Order Integration keep your online store on the cutting edge.
Shipping
A full set of tools for fast and easy shipping
As a Shift4Shop store owner, you'll have access to a complete set of shipping features to help you get orders out the door without difficulty.
Connect your store to major shipping carriers through Shift4Shop's powerful integrations. Keep customers informed of shipping costs with real-time rates from carriers like USPS, FedEx, UPS, DHL and Canada Post, for no extra charge.
If flat-rate shipping is right for your business, you can set it up quickly with Shift4Shop. Offer rates based on order weight, item quantity, ZIP code, or total order value. Shift4Shop makes it easy to customize your shipping for your exact business needs.
Need additional Information?