Does TradeGecko Offer the Best B2B eCommerce Software?
Compare TradeGecko and Shift4Shop to discover the right B2B solution for your business

VS.

Switch to Shift4Shop and get a FREE product migration!
About TradeGecko and Shift4Shop

TradeGecko was first conceived in 2011 in Auckland, New Zealand, by Carl Thompson. After being dissatisfied with existing tools, Thompson decided to focus his efforts on creating a new inventory management platform. He partnered up with brothers Cameron and Bradley Priest, and brought their new business to Singapore to secure funding. In 2012, TradeGecko was launched, and now has offices in multiple countries. While Carl moved on to other projects, his cofounders the Priest brothers remain at the head of TradeGecko's operations.

Shift4Shop is a feature-rich eCommerce platform serving businesses of all sizes in a wide range of industries across the globe. Offering an unmatched free eCommerce solution, the company provides everything you need to start — and grow — your business. This turnkey eCommerce experience includes powerful tools to help businesses succeed — a robust website builder, product and order management, customer marketing tools, and more. Customers can choose from dozens of professionally designed, industry-specific templates, all of which are mobile-friendly, SEO optimized, and highly customizable.
Selling B2B with Shift4Shop vs. selling B2B with TradeGecko
Shift4Shop: A Complete and Flexible B2B eCommerce Platform.
TradeGecko: Focused on Inventory and Sales Channel Management.
As if eCommerce didn't come with enough challenges, the stakes are even higher for B2B merchants. B2B buyers have certain expectations, and your online store will need to meet them in order to have a chance for success. These include the ability to set custom pricing to build relationships with the businesses you supply, features to allow ultra-fast reordering, the power to limit your store to established or accepted customers, and more. TradeGecko's B2B platform does provide all of these, but does it really give you everything your B2B business needs? Or is it better used specifically as software for inventory management and multichannel sales?
For building a full-featured online store and providing customers with a shopping cart, ClickFunnels is simply not a good solution. For that, you need Shift4Shop, the best choice for building an eCommerce website that functions as a complete online store. Your website will have a familiar catalog-style structure that helps customers find the products they're looking for, with product pages and as many categories or subcategories as necessary. Shift4Shop also includes numerous built-in tools to help grow your business and encourage customers to come back for more.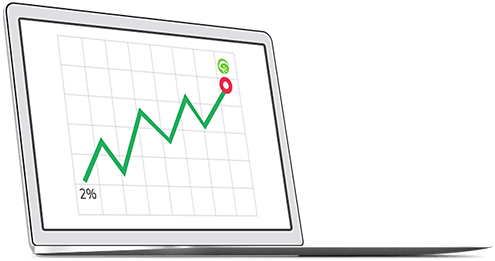 There's no denying that TradeGecko provides a powerful supply chain and inventory management platform, and both B2C and B2B merchants can greatly benefit from these tools — in fact, they may be some of the best available today. However, building your entire B2B online store with TradeGecko isn't recommended. There are simply too many limitations in everything from payment processing to web design, and you can have a lot more power over your B2B website with Shift4Shop. You can even keep using TradeGecko to manage your inventory thanks to our complete integration.
Integrating TradeGecko
with Shift4Shop
TradeGecko and Shift4Shop work seamlessly together to help with inventory management across multiple channels and streamline your overall workflow. Our TradeGecko integration takes only a few minutes to set up, and then you can experience all the benefits of both platforms: TradeGecko's robust inventory tools, and Shift4Shop's industry-leading eCommerce software. Whether you're selling B2B, B2C, or both, Shift4Shop and TradeGecko can equip you to succeed.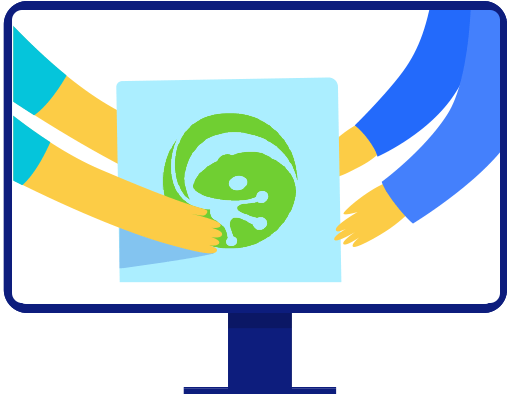 Shift4Shop vs. TradeGecko: which is the best online store software for B2B sales?
Versatile, feature-rich software vs. basic functionality
Features and Pricing
It's true that TradeGecko's B2B platform has the basics of what you need: customer-specific pricing, fast reordering, required customer registration, and more. But it's lacking in the type of advanced features you'll need to truly customize your store, even if you upgrade to the $599/month plan — which is only available as an annual payment of $7,188. However, Shift4Shop is packed with functionality that both equals and outmatches TradeGecko's at a price of $379/month with our B2B eCommerce plan. You can also access all of Shift4Shop's features, including B2B functionality, for free on the end-to-end eCommerce plan powered by Shift4 Payments.
Branding for Your Business
To compete in today's eCommerce climate, your business needs to distinguish itself from others in every way possible. This includes locating your online store at its own unique domain name. But TradeGecko doesn't allow you to use your own domain name unless you use its most expensive plan. However, with Shift4Shop, you can use your own domain name on any plan. In fact, you can even register a new domain name with us for free, enabling you to brand your site from every angle.

"My employees and I love TradeGecko for its multichannel inventory management features, so we thought it would be a natural fit when we decided to start selling wholesale. Well, after a few months I'd have to say we were wrong. There was just too much we couldn't do, especially considering how much we were paying. Now we still use TradeGecko for what it excels at (inventory control), but our actual B2B storefront is on Shift4Shop and we agree it's the perfect combination. Tons of features and running the business is much easier."
– Former TradeGecko B2B Store Owner
Technical Support
While TradeGecko does offer 24/7 support, a large number of users report slow response times and many claim that their issues are not being addressed. A common complaint is the receipt of a "canned response" that doesn't actually answer the question, and some feel that the TradeGecko support staff often doesn't read their questions before sending an answer. But Shift4Shop maintains a 24/7/365 tech support staff available by phone, ticket, and live chat, and is always ready to help with your exact concerns.
TradeGecko Online Store Design vs. Shift4Shop Online Store Design
How does TradeGecko's B2B website design compare with Shift4Shop's?
The design of your online store serves two main purposes: it helps differentiate your brand from your competitors, and assists in providing customers with the browsing and shopping experience they desire. TradeGecko and Shift4Shop both include web design functionality, so let's see how they stack up.
Free TradeGecko Themes
TradeGecko offers modern web design that looks good on all devices, but its major flaw is the inclusion of only a single template. This template can be customized in a limited manner, but the end result is that your website will look very similar to others — except for your custom graphics and colors.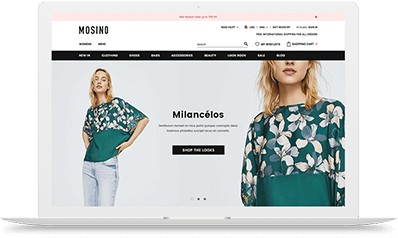 Free Shift4Shop Themes
Unlike TradeGecko, Shift4Shop has an ever-growing library of free eCommerce templates covering numerous layouts and color schemes. Your store can start out with an on-brand design right away, and each template can also be freely customized with our Theme Editor and HTML Page Builder.
Start accepting more payments on your online store
Payment processing is quick and easy on Shift4Shop
Shift4Shop: Built-in Shift4 payment processing

Shift4Shop is automatically integrated with Shift4 Payments, a leading payment processor that enables merchants to securely and instantly accept many payment types, including credit cards and digital wallets. For alternate payment methods, Shift4Shop is also integrated with more payment gateways than any other eCommerce platform in the industry. With Shift4Shop, you can accept everything from paper checks to PayPal. Customer financing and international payment methods are also available.
TradeGecko: Limited to credit card payments

Although TradeGecko also integrated with their own proprietary payment gateways, called TradeGecko Payments, it lags behind most other modern payment processors. Only allowing credit card payments, TradeGecko severely limits your options for accepting payments. While credit cards are still the most popular payment method and many businesses utilizer a corporate card, not every business is in the same situation.
Shift4Shop Supports More Industries than TradeGecko

Shift4Shop permits the sale of highly regulated industries like alcohol, tobacco, and adult products. This is accomplished through integrations with high-risk payment processors willing to work with stores selling these types of products as well as anything else designated high-risk.

TradeGecko does not allow highly regulated products to be sold on its platform, meaning B2B stores in these industries will need to look elsewhere. Any type of product that is governed by legal requirements such as age verification is inappropriate for TradeGecko's B2B platform.