The Venetian Bead Shop success story
Sometimes the smallest thing can inspire a big change. When Brenda Nishimoto bought a Moretti glass necklace during a trip to Venice, Italy in 1984, few would have guessed that this would one day lead to a successful business focused on crafting and selling beautiful, intricate glass beads. But that's exactly what happened, and how Venetian Bead Shop was born.
Over time, between the inquiries of friends and multiple purchases from artisans in Venice, Brenda developed an interest in the craft of Venetian glass beads. Venice has a long history of glassmaking going back to the 10th century, and in the year 1291, Venetian rulers mandated that all glassmakers move to the island of Murano. This was both for safety reasons and to help preserve the secrecy of their glassmaking techniques. But Murano glassmakers are more open to teaching in the modern day, and spurred by her new passion, Brenda began to study the language, culture, and artistry that has been kept alive for centuries in this unique part of the world.
Today, Venetian Bead Shop is deeply involved with the artisans of Venice Murano. The company imports Venetian and Murano glass beads and often designs their own. Each bead is handmade using the same ancient techniques that the government of Venice sought to preserve so long ago. Venetian Bead Shop has been instrumental in supporting the life of this ancient craft, and has brought new ideas in to expand on the industry, working directly with partners in Venice to bring these gorgeous beads to the rest of the world.
Venetian Bead Shop officially opened its doors as a business in 1993, based in Santa Clara, California. The company is still family-owned and now features over 6,000 styles and colors of Venetian glass beads, following both traditional and modern design conventions. Their store is targeted at jewelry makers, so alongside the huge variety of beads, they also sell other components such as tools and findings.
Bringing an ancient art into eCommerce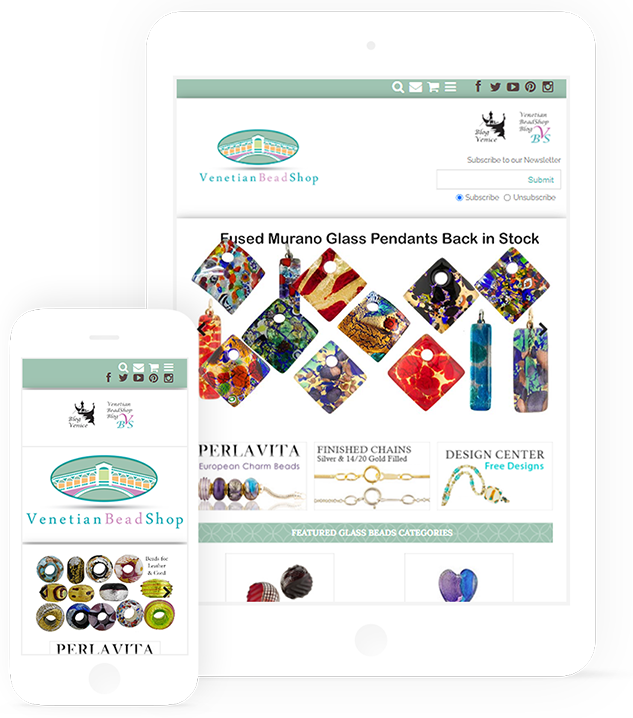 Perhaps fitting a business that focuses on helping such a traditional craft remain appreciated in current times, Venetian Bead Shop was an early adopter of eCommerce. At first, they sold in person as exhibitors with the International Gem and Jewelry Shows, the San Francisco International Gift Show, and at other shows in the San Francisco Bay Area. Buyers from jewelry stores attend these types of exhibitions to look for products to sell at their retail stores.
"Clearly, there was no internet," Brenda says of the pre-eCommerce times. "But in 1998, we opened our first online store. It was on Yahoo!, and it was called Viaweb Stores in those days." In addition to selling larger glass pieces from the Venice furnaces, Brenda started adding beads to the store's catalog. At the time, the limitations of technology meant she could only take 32 pictures at a time — a steep prospect for a store that would one day have over 16,000 SKUs. Thankfully, things have gotten much easier since then.
Eventually, the time came to split their business into more than one website. "The store became clumsy for people who wanted to buy multiple products," Brenda explains, "So we spun off Venetian Bead Shop." At first, they kept it on Yahoo! Stores, but within a few years, they were looking for another platform.
The search for software that could
meet the challenge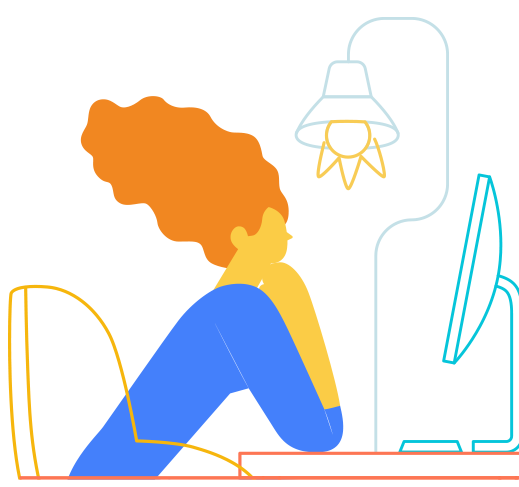 It was crucial for the business to use eCommerce software that was both feature-rich, and easy to use. While it's possible for businesses to keep developers on staff, the better solution is to use an eCommerce platform that anyone can learn, regardless of their background.
"Between 2000 and 2006, I think I tried every shopping cart there was. If it was out there, I tried it!" Brenda says. "The one I probably stayed the longest with was Miva, which is an excellent cart, but very geeky. So, in 2006, we needed to have it so the people who worked for us could actually go on and they didn't have to know code."
Eventually, the search for a new platform led Brenda to discover Shift4Shop.
"The deciding factor was really that it had some of the GUI capabilities, but it had a lot of the same coding capabilities that we had before, so it was a hybrid that worked for someone who is good with coding, but also someone who you just hired to run your store. They weren't going to break it, and it had all the capabilities that we need."
Finding advantages with Shift4Shop
One of Shift4Shop's primary advantages is that it's scalable for any size of business and any number of products. Online store owners on Shift4Shop can create unlimited categories as needed, and nest them within each other to create subcategories. Since there's no limit to how many categories a Shift4Shop store can have, or to the depth of the categorization, this gives the platform a strong appeal for businesses that need deep category structures to help customers find what they need.
A jewelry supply store like Venetian Bead Shop needs the ability to add an enormous number of SKUs to their catalog and categorize them appropriately. Even if you don't consider the huge variety of beads, jewelry supplies include findings (like clasps and jump rings), stringing materials, tools, and more. Add different materials to the equation, like silver and stainless steel, and it's easy to see how even a smaller jewelry supplier could end up with hundreds of products — let alone a large, established business like Venetian Bead Shop.
It's not just the software itself that Brenda finds useful for her business. In 2020, she started using Shift4Shop's SEO service, which she says is her favorite thing right now. She explains that with 16,000 SKUs on Venetian Bead Shop, the SEO is "a big deal." This is definitely the case, since for SEO to be effective, every product needs to be optimized.
"I can have Shift4Shop do that, and I don't think about it," Brenda says. "They talk to me once a month about what we're going to do next month, and tell me what we've done." She greatly appreciates the fact that these services are available from Shift4Shop itself. "I like that it's a total package. If you have to give someone else access to your website… they can break it. So, if I ask Shift4Shop to do it, I know that it's going to be secure, I know that if something breaks, [they're] going to fix it. I could hire someone in my own shop to do the SEO, but it would cost me a lot more."
Brenda also relies on Shift4Shop's integrations with other software to run essential parts of her business. She operates multiple online stores to ensure better targeting in the different niches related to Murano glass, and uses ecomdash to handle her business's multichannel sales and synchronizations. She has also been using Stone Edge to manage all her orders since 2003. "I wouldn't be with a cart that didn't work with Stone Edge," she says.

"I like that it's a total package. If you have to give someone else access to your website… they can break it. So, if I ask Shift4Shop to do it, I know that it's going to be secure, I know that if something breaks, [they're] going to fix it. I could hire someone in my own shop to do the SEO, but it would cost me a lot more."
– Brenda Nishimoto,
Venetian Bead Shop founder
Forging a future from glass
A Dream Team for eCommerce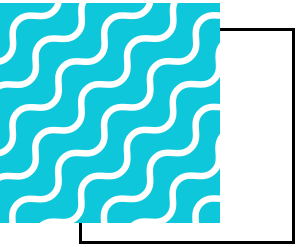 Brenda says she would definitely recommend Shift4Shop to other businesses. She cites the ease of use, payment processing, and integrations as well as the variety of eCommerce website templates in the Theme Store. "[Shift4Shop doesn't] require you to be a programmer to get started."
As for Venetian Bead Shop, the future is bright, and Brenda has her eye on the next steps for continuing to share her passion with the world. The business has already grown substantially since its early days, and has moved to new facilities several times — without ever missing an online order.
Now, Brenda plans to start selling on Instagram soon, making use of Shift4Shop's complete Instagram integration. She's also opening more stores on Shift4Shop, including a new site with a partner from Venice who makes jewelry. She explains that she has found that Shift4Shop grows along with the business.
Brenda has experienced firsthand the numerous challenges that come with building and growing a successful business, especially in such a niche market. But she's not just running a business: whether she's managing one of her websites or crafting beads herself deep within a Murano furnace, she's helping to keep a legacy of beauty alive for the next generations.
Venetian Bead Shop has an inspiring story for anyone who wants to create a business based on something they love. After all, Brenda's abiding love for Venice, its culture, and its artistry is what inspired her to start the business, and what drives her to this day. "Why I work is so at the end of the day, I can be in Venice!"