Main Features
These are the general eCommerce features you'll need to successfully and conveniently manage your website and run your business. You'll find that 3dcart includes more powerful features in its Basic plan than competing platforms include in their plans of comparable price.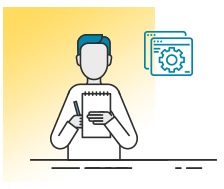 FTP Access
Real-Time Shipping
Shipping Labels
Unlimited Product Variants
Unlimited Categories and SmartCategories
Unlimited Product Images & Zoom
Inventory Control
Edit Orders
Advanced Product Options
Bulk Quantity Discounts
Single-Page Checkout
Multiple Ship-To Checkout
Digital Downloads
Advanced Reporting and Dashboards
Tax Rate Calculation
QuickBooks Connector
Product Reviews
Google Customer Reviews
Gift Wrapping Module
Visitor IP Blocking
Upsell & Cross-Sell Features
Saved Carts
In addition to the main features available in the Startup plan, the 3dcart Basic plan also includes:
Return Merchandise Authorization (RMA) Module
An RMA system is essential for processing returns, as it makes it easier to enforce a consistent return policy. 3dcart Basic includes an RMA system with all the tools you'll need to request information from a customer before accepting the return, and then you can send them a return shipping label to smooth the process. This makes things easier for you and provides a massive boost to customer service.
CRM (Customer Relationship Manager)
A CRM provides a centralized database of all your customers and your interactions with them. Customers can submit support tickets to you if they have an issue with your store, and all the actions you take are recorded. These customer records provide a huge advantage when dealing with large numbers of customers over a long period of time.
3dFeedback
3dfeedback is a special customer feedback module unique to 3dcart. You can use it to place an unobtrusive tab on your website pages that invites customers to complete a short survey about your online store. This shows customers you're interested in their opinions and provides you with valuable data you can use to improve your eCommerce website and business.