Main Features
These are the general eCommerce features you'll need to successfully and conveniently manage your website and run your business. You'll find that 3dcart includes more powerful features in its Startup plan than competing platforms include in their plans of comparable price.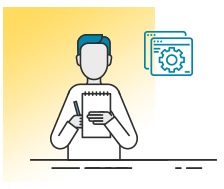 FTP Access
While the 3dcart dashboard includes a file manager for uploading and editing files such as product photos, it can be tedious to add large numbers of them one by one. That's why we include FTP access to your online store's server: you can upload or edit large batches of files all at once and save yourself tons of time.
Real-Time Shipping
Surprise shipping costs are the number one reason customers abandon their carts. 3dcart's real-time shipping calculations display rates from major carriers including UPS, FedEx, the US Postal Service, and more, right in the customer's cart. Rates update when the customer alters their order, providing an accurate cost and preventing unpleasant surprises.
Shipping Labels
Generate and print shipping labels directly from your 3dcart dashboard with the customer's address and your business address automatically added. This is a huge time-saver, especially on busy days or large orders — and prevents mistakes that can happen when copying addresses by hand.
Unlimited Product Variants
Products with many sizes, colors, or other variants are no problem with 3dcart, which places no limits on product variants. Plus, you can include multiple types of variants simultaneously, like size and color, and organize them as you see fit on each product page. All variants' inventory count is tracked.
Unlimited Categories and SmartCategories
Create unlimited categories to organize your products and make shopping easier for your customers. You can designate subcategories as needed. Plus, SmartCategories can dynamically classify your items based on keyword, current promotions, new releases, and more, making it a breeze to create a dedicated page on your store for products on sale.
Unlimited Product Images & Zoom
3dcart provides you with unlimited disk storage space so you can add all the high-quality product photos your customers will want to see. Create photo galleries for products with detailed images that will zoom in when a customer clicks or mouses over them. Want to add videos? Upload or embed them directly on your product pages!
Inventory Control
With 3dcart's robust inventory control, you'll never lose track of how much you have in stock. Products can be tracked down to their individual variants, with count automatically updated when customers place orders. You can set up Stock Alerts to notify you when you're running low, and configure how out-of-stock items appear in your store.
Edit Orders
It happens all the time — a customer places an order, and then realizes they made a mistake. Maybe they selected the wrong size, or maybe they only bought one of something when they wanted two. With 3dcart, you can quickly perform vital customer service by editing orders when needed, a feature that's surprisingly missing from some competing platforms.
Advanced Product Options
Sometimes product variants don't just look different, they need to be handled differently, too. Maybe the largest size of a product is big enough to raise shipping costs, or maybe a certain variant uses materials that make it more expensive to manufacture. With 3dcart, you can apply unique information to product variants to ensure correct pricing, shipping, and tracking for each.
Bulk Quantity Discounts
Wholesale pricing is a familiar part of retail, whether you're supplying another business with products or simply creating an incentive for larger purchase quantities. 3dcart makes it easy to apply quantity discounts of any size to any product, including multiple pricing levels based on amount purchased, customer group, and more.
Single-Page Checkout
Customers want the smoothest online shopping experience possible, whether they're on desktop or mobile. Make checkout fast and simple (and cut down on page loading times) by implementing a single-page checkout that saves your customers time and effort. The more convenient your store, the more likely they'll come back!
Multiple Ship-To Checkout
In certain situations, a customer may want to make a single order and have it split among multiple shipping destinations. For example, maybe they're buying gifts for the holidays, or want to stock up their company's three offices with your products. You can choose to enable this feature to let your customers split single orders rather than needing to place more than one.
Digital Downloads
With 3dcart, you can sell more than just physical products: you'll have access to a full suite of tools for selling digital downloads like ebooks, music files, videos, and more. Encrypted product download links are automatically provided to customers upon payment, with full copy protection to prevent unauthorized reproductions.
Advanced Reporting and Dashboards
Businesses thrive on information — the more, the better. Rather than leave you in the dark, 3dcart provides over 60 in-depth reports, analytics, and dashboards to help you identify every sales trend and all your strengths and areas in need of improvement. Instantly discover top-performing products and see the results of each marketing campaign, so you'll know what works and what doesn't.
Tax Rate Calculation
Sales taxes are something every business needs to handle accurately, or else risk fines and other problems. With 3dcart, you can always be sure you're charging the right amount of tax on your sales. Set up rates by country, state, or even ZIP code level with a few minutes of configuration, and the correct amount will be applied every time. Plus, you can set up tax exemption or different rates for different customer groups.
QuickBooks Connector
Proper accounting is crucial for businesses, but it can also be very tedious without the right software. QuickBooks is one of the most popular accounting software solutions in the world, and with 3dcart's QuickBooks integration, you can pull all your sales and other data right into QuickBooks to make organization and accounting easy.
Product Reviews
Studies show that most customers check reviews while shopping, and products with more reviews are more likely to sell. With 3dcart, you can display a complete review section right on the product page, with all the features you'd expect from a huge marketplace like Amazon. Customer comments, star ratings, and review sorting are all built in, as are helpfulness ratings for reviews.
Google Customer Reviews
Google Customer Reviews is a feedback collection system that lets your customers opt in for a quick survey about their shopping experience on your store. Your aggregated feedback rating is shown in Google ads and searches, but also appears in a badge on your website. The presence of the Google Customer Reviews badge increases customer confidence, especially if you have a good rating! 3dcart stores provide a quick means of enabling Google Customer Reviews on your website.
Gift Wrapping Module
Want to offer gift wrapping on some of your products? 3dcart's Gift Wrapping module makes it easy to create as many gift wrapping options as you want and make them available on any product page. You can offer a range of gift wrap options and charge for them as you see fit, and if you only want to offer it during part of the year, it's easy to hide your gift wrap options without deleting them.
Visitor IP Blocking
In some situations you may want to ban a certain visitor or region from accessing your online store. For instance, you might have identified a specific IP address that always places fraudulent orders or engages in otherwise malicious behavior. Or, you might want to prevent orders coming in from certain countries due to shipping costs or legal differences. 3dcart makes it easy with IP blocking, which you can use to simultaneously block a whole range of IP addresses.
Upsell & Cross-Sell Features
Increase your average order value by upselling (convincing the customer to add extras like warranties and upgrades to their order) and by cross-selling (displaying related products that are tempting to add to a purchase of an item). 3dcart comes with built-in tools for creating upsell and cross-sell offers for any product in your store.
Saved Carts
Customers love convenience, and they'll spend more time on your online store if you provide them with quality-of-life features that show you care about their experience. Saved carts are just such a feature, as they enable a customer to save their cart to complete their purchase at a later time. Customers can create multiple saved carts and access them through their store account, and even share their saved carts through email.