Main Product Categories
As we briefly touched on earlier, cooking equipment can cover a wide range of products that probably number into the thousands. As you plan your business, put some thought into which types of products you want to focus on. Here are some examples:
Cutlery and other utensils
Pots and pans
Appliances (ovens, refrigerators, etc.)
Microwaves
Crock pots and pressure cookers
Blenders
Measuring cups and spoons
Scales
Grills and hot plates
Tools like grinders and graters
Other specialty tools
Regarding the products you choose to sell, you may be considering a "superstore" that sells everything related to cooking, but you're more likely to be able to establish yourself if you devote your business to a specific range of products or even a single type of appliance, like microwaves or blenders. By narrowing your focus, you'll be able to become an authority in your niche much more quickly than you would if you tried to sell everything. You can always expand later on to offer additional types of products.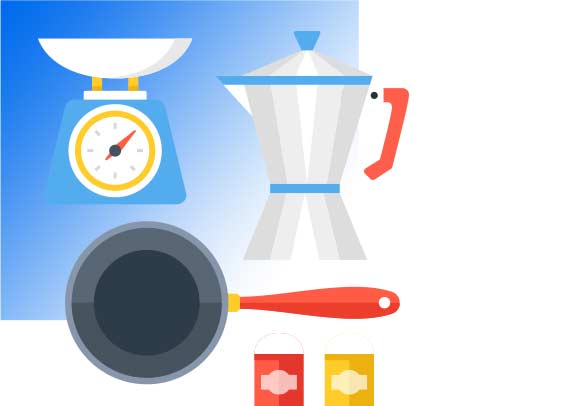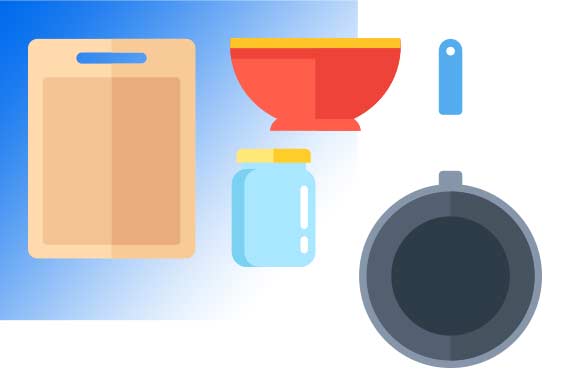 Accessories
Some cooking equipment has accessories associated with it, like roasting racks or steamers to use with a pressure cooker. Sometimes these accessories come with the main product, and sometimes they don't. In either case, you can increase order sizes by offering accessories and displaying them as "Related Items" on the main product's page. For products that don't initially include their accessories, customers may be looking to buy them so they can get more use from the product. For products that do include accessories, customers might need to buy replacements.
Bundles and Kits
Besides offering accessories for sale as related products, you can also upsell your customers by offering a bundle that includes all the accessories together at a slightly discounted price. Bundles can optionally include the main product as well, so a customer could opt to buy the item and all its accessories together. Bundles can also be used to create a collection of products that go well together, like a skillet and spatula, so someone can quickly buy what they need if they have a specific purpose in mind for their cooking. On that note, you could also use bundles to create kits such as "starter kits" that include basic necessities for a new cook, or other kits that include items specifically for a particular style of cooking or even a certain recipe.