The Perfect Website for Your Firearms Business
Shift4shop has everything you need to run a gun accessories and ammo online store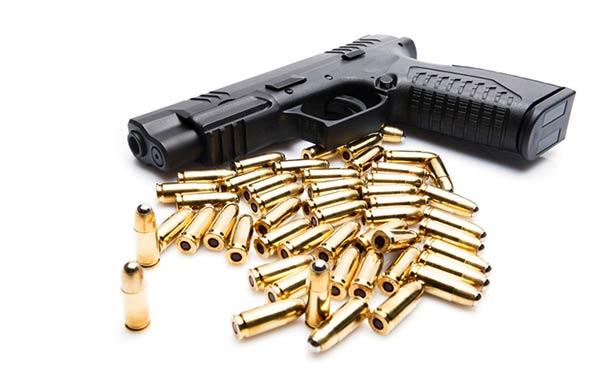 Whether for law enforcement, home protection, hunting, target shooting, or related competitive marksmanship, firearms are in demand all over the United States. Many gun owners enjoy upgrading and accessorizing their firearms to get better results on the range. This can be as straightforward as attaching a scope, or as complex as replacing the trigger or other parts. Others seek a steady supply of ammunition or even prefer to handload their own cartridges from components.
For online gun accessory and ammo sales, Shift4shop hits the mark. Organize products by category and manufacturer so customers can choose from their preferred brands. Include product photos, video, and technical information right on your product pages. Reach millions of customers with robust built-in SEO and make your website complete and informative with unlimited pages. Plus, built-in order and inventory management, backed up by a Customer Relationship Management module, helps you keep records straight and remain in compliance with regulations. Shift4shop is fully prepared with everything you need to grow your business and keep your online store on target!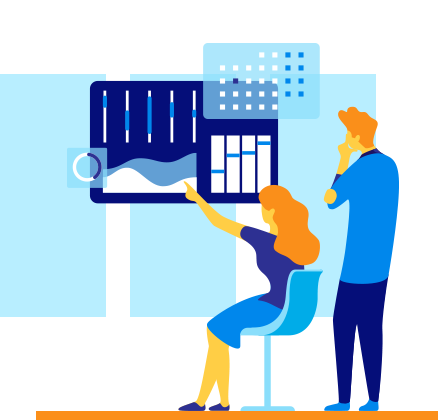 Understanding Online Firearms, Accessory, and Ammunition Sales
Customers like to buy guns and gun accessories online for the same reasons anyone likes to shop online: convenience, access to large product catalogs, ease of product comparison, presence of customer reviews to guide them to the right product, and more. As long as you follow all regulations and conduct business in accordance with the law, you can run a firearm-related online store with tons of products to choose from. You could decide to focus solely on one type of gun, such as rifles built on the very popular Remington 700 footprint, or you could branch out into multiple types of firearms. Your primary customers could be hunters, law enforcement, competitive target shooters, or you could appeal to all of these. It's up to you, your marketing, and the products you choose to carry.
Types of Products
Recreational marksmen and law enforcement alike are always seeking new products to upgrade their shooting experience. Even if you do not sell complete firearms, you can sell a huge variety of parts including (but not limited to) the following:
Handgun parts (frames, slides, sights, barrels, etc.)
Brass casings and reloading dies for handloading cartridges
Rifle parts (barrels, stocks and chassis systems, actions, triggers, etc.)
Targets
Scopes/scope rings/levels
Bipods
Muzzle brakes
Holsters, bags, cases, and rifle slings
Rifle bottom metal/box magazine conversion
Cleaning supplies
Magazines and clips
Related tactical gear and accessories
Ammunition
With Shift4shop's powerful unlimited category system, you can sell all these products and more, and keep them organized in a meaningful manner that your customers will find easy to navigate. The only limits are laws and regulations.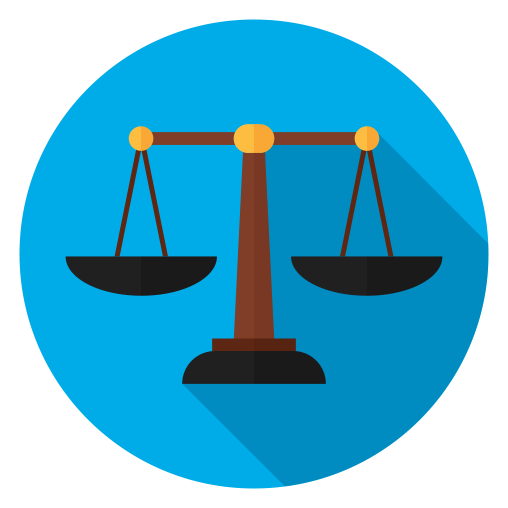 Legal Requirements for Online Gun Stores
The legal landscape around firearms and parts is always shifting, especially regarding the intersection of state and federal law and the legal differences between states. Long guns and handguns are also subject to different laws. It's absolutely vital that you understand the laws involved, obtain the proper licensing, and restrict your sales to qualifying customers. Gun store owners who make a mistake are subject to large fines and potential prosecution. Start with this guide from the ATF to learn whether you need a Federal Firearms License. Check out the ATF's main Firearms Industry page for additional helpful information.
You'll need an understanding of state laws as well, and this is especially important because you may decide that selling to customers in a strongly-regulated state or locality has risks that outweigh the profits from the sale. In many cases it's better to refuse sales and shipment of some items to certain states completely.
Important note: State gun laws are in flux and information found online regarding state-by-state laws for online gun retailers may be out-of-date. We recommend consulting an attorney if you have any questions about which states you can sell to.
Online Store Themes Perfect for Firearm and Tactical Stores
The look and feel of your online store is important for your branding and for providing the right shopping atmosphere for your customers. Shift4shop has many eCommerce themes available that are easy to customize to match your brand. You may want to choose based on design aesthetic, such as dark colors or sleek elements, that match the tactical products you're selling. Or, you may prefer choosing a theme based on its function and how well it meets your business needs.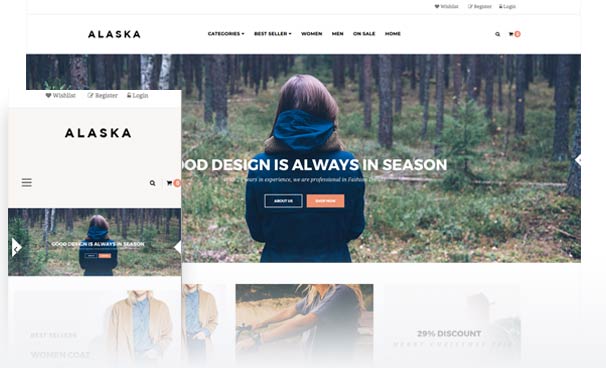 Alaska
Alaska is a totally responsive Shift4shop theme. Thus it is a flexible theme completely adjustable for any devices (Desktop, laptop, tablet and mobile phone). It is designed for any e-commerce sites and diversified commodities as Fashion, gift, accessories, shoes, bags and multi-stores. Alaska fully responsive Shift4shop theme is an unique template.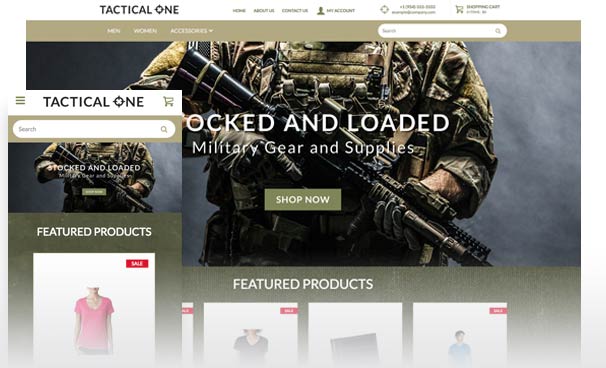 Tactical One
It's open season and you have your sights set on making a statement with your tactical gear. Well now you can with Tactical! This amazing theme is dedicated to displaying your firearms, ammunition and self-defense collection in the boldest way. This full width, responsive theme will adapt to fit the size of any device. And like a well-oiled machine, your customers will experience the smoothest online shopping experience they won't soon forget. Arm yourself with the best theme for your e-commerce site and showcase your products proudly with Tactical.
How to Get Started Selling Guns, Accessories, and Ammunition Online
Where other platforms refuse to support online stores selling guns, gun accessories, or ammunition, Shift4shop provides everything you need to run your business successfully. Get a feel for our shopping cart software and try out store themes by signing up for a FREE 15-day trial with no credit card needed. Here are some of the features that make Shift4shop perfect for your online firearm and accessory store:
Why Shift4shop is the Best eCommerce Solution for Online Gun Accessory and Ammo Stores
Age Verification Options
Ensure your customers are of legal age with an easy-to implement popup, or take verification to the next level with the Shift4shop Veratad connector.
Powerful SEO
Firearm-related stores face advertising restrictions, which makes it even more important to be easily found on search engines. Shift4shop's full suite of built-in SEO tools will help you rank high in search results.
Restrict Sales and Shipping
Gun laws vary all over the nation. Avoid problems by preventing sales to states or localities where your products aren't allowed to be purchased online.
Built-In Product Reviews
Keep customers informed by encouraging product reviews from your community of firearm enthusiasts, and the results they've achieved with different parts and ammunition.
Officially launch your store
Test all of your page elements to make sure they work correctly. Then, you'll have the opportunity to launch your store to the public. A good promotional discount can help encourage more sales. Make sure to reach out to your audience through social media and blogs to find customers. Learning how to build a wines ecommerce website is an ongoing process, so be patient and keep learning!
Shift4shop includes everything you need to sell online
Frequently Asked Questions
Is it legal to sell guns online?
This entirely depends on where you're selling from, what products you're selling, and who you're selling to. Certain guns are prohibited for sale, while others can be sold with specific restrictions. Additionally, many states have different laws on gun sales relative to federal laws. Ensure that your store is properly licensed and that you're only selling to areas that do not prohibit the gun you are selling.
How can I market my online gun and ammo store?
Because most social media and paid media ad platforms, like Facebook and Google, prohibit advertising campaigns for gun sales, you'll need to focus your efforts elsewhere. You can advertise your online gun shop using SEO, which optimizes search engine results so that your store reaches the top. Content marketing is especially useful for improving your site's SEO; consider writing blogs that gun enthusiasts may find valuable.
What are the best suppliers for firearm products?
You can procure firearms and related products for your online gun store from a variety of wholesale distributors. Make sure that the distributor you source your products from is a licensed distributor for the specific brands that it carries to ensure that your products are not only legal, but legitimate.
Can I dropship gun and ammo products?
Dropshipping is definitely possible and available in the online firearm sales business. However, its vital that you understand where your dropshipped products are being sold from to ensure that your business is staying 100% legal. You'll also want to do research before establishing a relationship with a dropshipping supplier; your supplier needs to be reliable in terms of product quality when it comes to products like firearms.