In the past several years, the vaping industry has experienced vast growth. Leslie Sandusky and Benjamin McCalla first got into making their own e-liquids as a substitute for buying the often-overpriced liquids sold by many local retailers. After graduating college, they decided to start their own business.
The two were uniquely prepared to enter the e-liquid manufacturing market. "Ben comes from a research chemistry background," Les explains, "and I was an economics major, which seemed like a good fit at start-up." And it is a good fit indeed — he goes on to say that their combined expertise has helped grow their business exponentially.
Om Vapors officially went into business in October of 2014 in Lexington, Kentucky. In June 2015, they began selling online. They started out using GoDaddy Shopping Cart, but within a few months decided it was time for an upgrade. "We didn't even have a real eCommerce platform," Leslie says. "We chose Shift4Shop because it seemed to be the best value. In addition to this, there is just about any app that you could ask for. The SEO capabilities are also a big bonus."
Going with Shift4Shop proved to be the right decision. "We have been using Shift4Shop for 10 months and have experienced amazing results thus far," Les says. In fact, Om Vapors has increased their monthly revenue by 370% in the time frame between November 2016 and August 2017, a rate of growth that is truly impressive. Business has become profitable enough that the company upgraded from a 900 sq. ft. facility to a 3,000 sq. ft. facility that also has an additional 300 sq. ft. of cleanroom space. A cleanroom is important to reach the highest manufacturing standards for e-liquids. Since 2016, Om Vapors has also taken on contracts to manufacture e-liquids for other brands.
Om Vapors has grown its selection of e-liquids as well. The brand released a couple of e-liquid lines and went through several iterations through 2015 and 2016 before establishing itself as the Om Vapors of today. They also have a product unique among e-liquid manufacturers, which in fact helped the company secure its niche early on. "After gaining more knowledge on the subject and completing his chemistry degree, Ben came up with the idea for a vape product that would simulate smoking as closely as possible without introducing any known carcinogens," explains Les. The result is Om Vapors' WTA (Whole Tobacco Alkaloids) line of e-liquid, which introduces additional tobacco alkaloids besides nicotine in order to create an experience closer to smoking than can be achieved with conventional e-liquids.
Shift4Shop's features have served a large role in helping Om Vapors reach its eCommerce goals. "The SEO tools built in to Shift4Shop are great," says Les. "The way orders are arranged on the back-end of the site makes it very easy to address issues and keep hundreds of orders organized at a time. The analytic tools are powerful and allow us to plan out logistics much easier than in conventional retail." Om Vapors also makes use of the Shift4Shop Reward Points module for their loyal customers, and finds great convenience in the MailChimp integration. "It makes sending out emails to customers seamless." As for the best thing about Shift4Shop? In Les and Ben's opinion, "it's a tie between the ease of integrating third party apps and the timely customer support."
Today, Om Vapors is doing steady business. Customers are happy, and reviews state that the flavor descriptions on Om Vapors liquids are accurate as to what the liquid actually tastes like — which can't be said of many other e-liquid manufacturers. They also offer bargain-priced sample packs of all their e-liquid lines, giving potential customers a chance to try different flavors at a steep discount.
Om Vapors' plan for the future is to upgrade their website alongside their company's production capabilities, as well as expanding into more contract manufacturing. They're also considering creating their own e-liquid distribution company.
Business is good, and the future is bright for Om Vapors. As Les puts it, "We've come a long way! Learn how Shift4Shop can help you with selling vape online."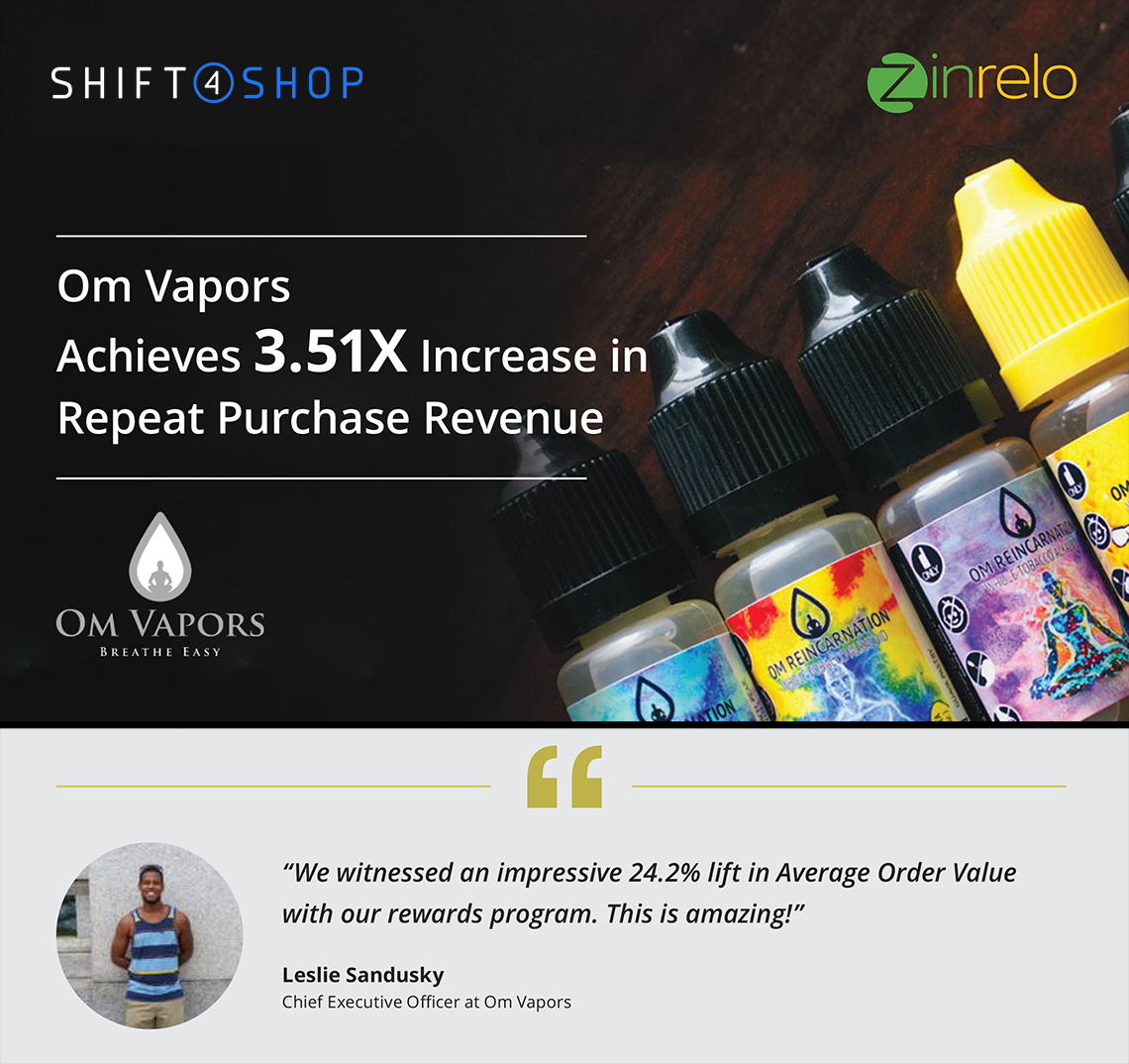 Om Vapors uses Zinrelo's loyalty rewards platform to convert one-timers into repeat buyers.
Om Vapors was founded to provide a selection of well-tested, delicious, and most importantly, affordable e-liquids. They believe that anyone should have the accessibility to a selection of e-liquids that not only taste good but are also carefully crafted. Om Vapors not only makes vapes affordable but has a large variety of e-juices and several types of nicotine ranging from; nicotine salt e-liquid and e-juices designed for sub-ohm devices to whole tobacco alkaloid e-liquids.
The Solution
Om Vapors was looking for a solution that could easily integrate with the Shift4Shop platform. Zinrelo offered them a program that was simple to install, easy to customize as per their brand requirements and very clearly visible to customers on their website.
The Om Nation Loyalty Program offers customers multiple point earning opportunities with simple actions to create 360-degree engagement for Vape juice or hardware purchases made on website, refer a friend, account creation, sharing/ follow on social media channels. They also offer customers enticing coupons to save more!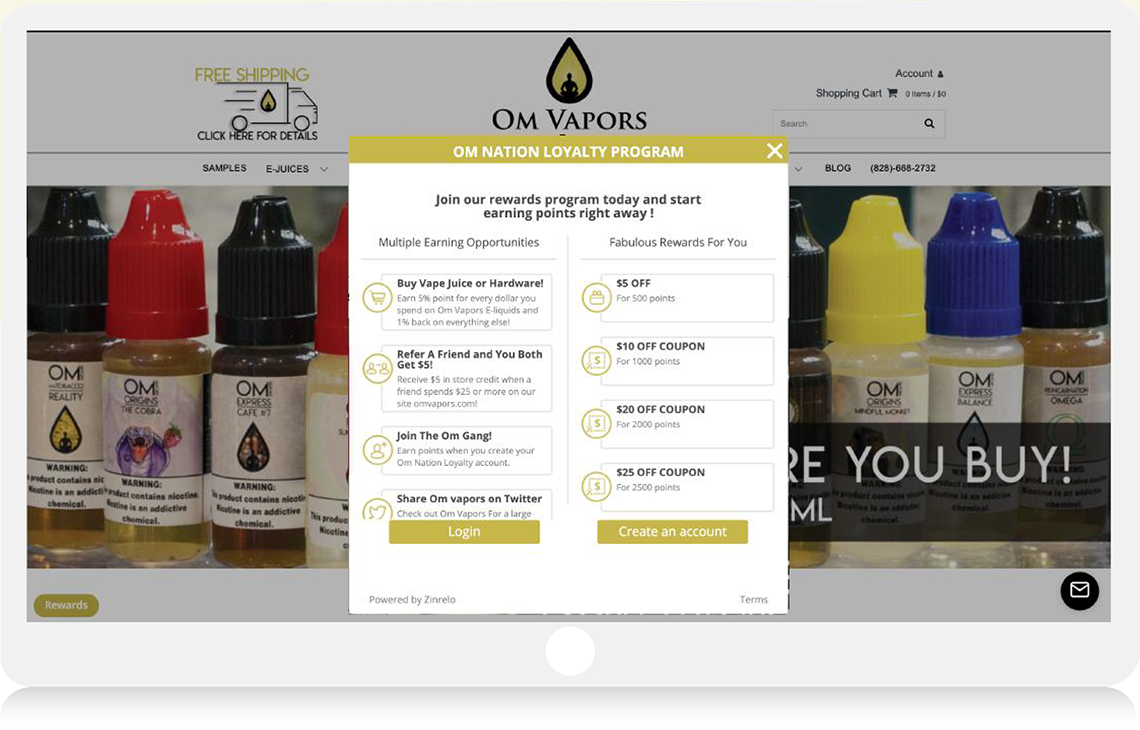 The Results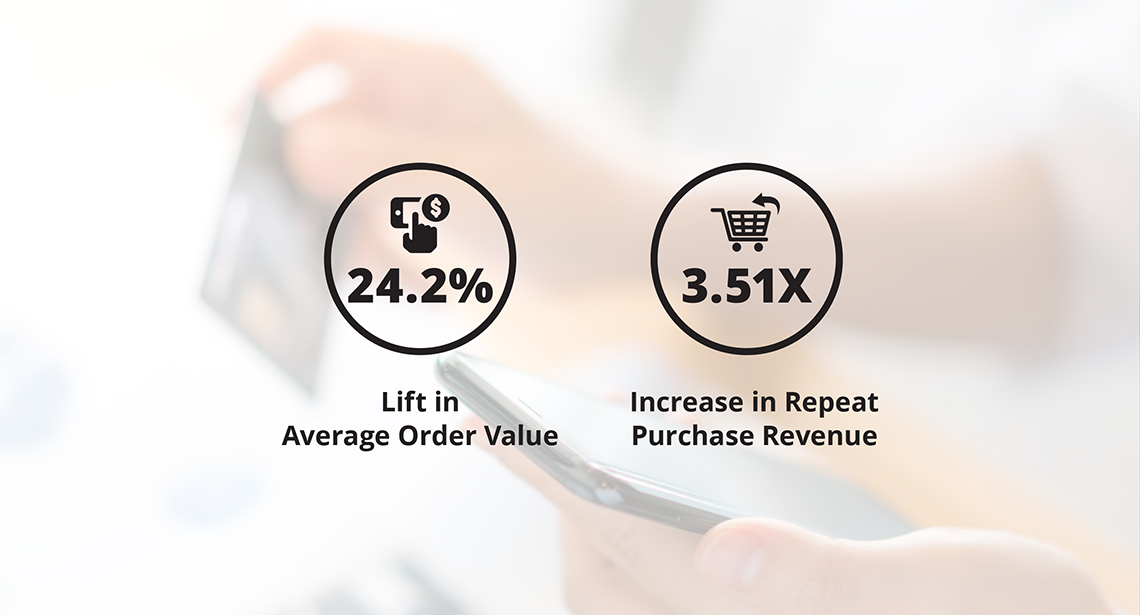 24.2% lift in average order value
3.51X increase in repeat purchase revenue
Loyalty program emails saw an impressive a 28% open rate and a 19% click rate