If you had a choice, would you decide to be the very best retailer of one type of product, or a mediocre retailer of numerous products? We're betting you'd choose to be the best at what you do, and finding your niche is the first step. A good niche is a key factor for a successful business, and the more specialized the niche, the more effort a business can pour into it. Just like with many other things, spreading yourself too thin in business is a recipe for failure — and tightening your focus can lead to fantastic success.
Pearls of Joy is a specialized jewelry company with a business model revolutionary in their industry. Kevin Canning, with a background in web design and internet marketing, was hit with the desire to start his own eCommerce business back in 2002. "I looked at what industries were ripe for disruption," he explains, "and jewelry was an industry with insanely high markups and very little online presence."
Canning was well aware of the benefits of a narrow niche — the more specialized a business, the easier it is for the company to excel. Plus, too wide a scope creates too much opportunity for competition. "I knew there would be major players entering the jewelry space that would hard to compete with, but I thought if I could do just one type of jewelry really well, there was a high chance of success," Canning says. He continued to develop his plans through research, and arrived at pearl jewelry as the niche for his new company after observing the scarcity of pearls at most jewelry stores. This meant little competition.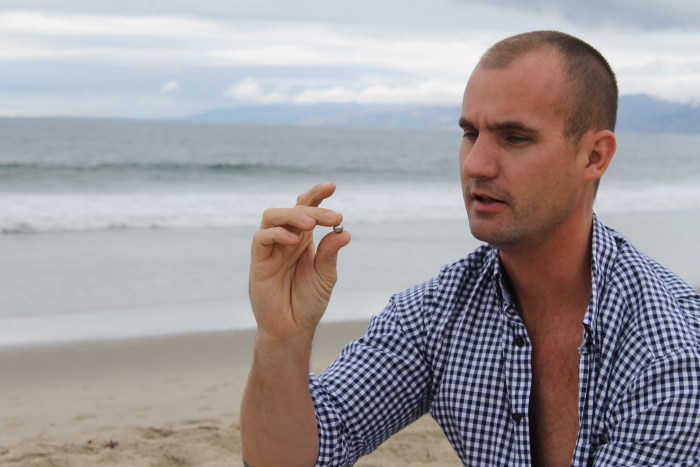 Disrupting the Market
Jewelry, like most products, goes through a multiple-step supply chain before reaching the consumer. Raw materials are processed and then pass through a wholesale distributor before reaching a retail outlet. Canning's mission for Pearls of Joy was to circumvent this supply chain to bring the highest-quality pearl jewelry directly to the consumer without going through the middleman steps — the steps that result in huge markups in price.
The only way to do this was to handle every step himself. In 2003, Canning made his first trip to Asia in search of pearls. 15 years later, he's traveled almost a million miles buying pearls directly from farmers and processors. "Over the years I've flown all over the world sourcing pearls: China, Japan, Tahiti, Australia, the Philippines and Indonesia. But today, a lot of the pearl buying takes place at massive gem shows in Asia — think a room the size of a football field, filled with diamonds, another filled with colored stones and a single giant room devoted to pearls, where pearl farmers from around the world converge to sell their harvests." The close relationships Canning has developed with his sources ensure a steady supply of the best pearls in the world.
By working directly with pearl farmers and processors, Canning has been able to consistently supply Pearls of Joy with the raw materials it needs to create beautiful pearl jewelry that would normally retail for hundreds of thousands of dollars. The pearls he buys are brought back to Pearls of Joy's headquarters in Los Angeles, where they're made into finished jewelry pieces and sold via the Pearls of Joy website. The direct-to-consumer model ensures Pearls of Joy can offer their products at prices 50% to 80% lower than they'd cost at regular jewelry stores.
Education and Value
One of the challenges in selling luxury goods is the connection in people's minds between quality, luxury, and price. High-ticket products like jewelry can attract two different types of skepticism, both centered on customers being uncertain about what they're getting. Customers with experience buying expensive jewelry may wonder how Pearls of Joy can offer the same (or better) quality pieces at such an incredible discount. Other customers, perhaps making their first investment in heirloom-quality pearl jewelry, may simply be concerned about getting their money's worth.
Canning has eased these concerns among his customers through education. Where other companies simply release sales materials, Pearls of Joy adds value through providing comprehensive information to help customers understand everything about the pearls and processes involved in the creation of their piece. In 2004, Canning cofounded Pearl-Guide.com, the world's largest pearl information resource, and he was also involved in the creation of the Cultured Pearl Association of America's educational website, Pearls as One.
By educating customers about pearls and where they come from, Pearls of Joy emphasizes the authenticity of its jewelry and creates savvy consumers who understand the value of the product. This approach has been wildly successful — a customer can follow the piece all the way from the pearl farm to their home, and learns to appreciate their purchase in a whole new way.
The transparency and real passion displayed by Pearls of Joy has also built a great amount of trust in the brand, which is vital in an industry involving the sale of high-priced products over the internet. One of Canning's most memorable success milestones is the sale of a $50,000 necklace. "I would never have thought you could sell such an expensive item online, without the customer being able to touch and hold it," he remembers. "But it's a testament to branding, education and building trust with your audience. That customer trusted me with a tremendous amount of money — and ultimately they received an incredible one of a kind necklace, with a value 5 times what they paid."
Building an Ideal Online Store for Pearls of Joy
Canning's vision for Pearls of Joy was focused on eCommerce from the very beginning, but building an online store presents its own challenges. After trying out several platforms including Magento, WooCommerce, and Shopify, Pearls of Joy moved to Shift4Shop around 2010.
Other platforms simply didn't have the customization possibilities and range of tools that Pearls of Joy required. "Shift4Shop offered a platform that I could make my own. It allowed me the flexibility to implement the designs and strategies I needed to grow my business," Canning says. "The flexibility to customize has been essential for Pearls of Joy. I test and customize everything and most other platforms are either a nightmare to work with, or simply won't let you customize certain elements."
Shift4Shop's tools and integrations have also made a difference — Canning cites the SEO-friendly URL structure as a huge benefit, as well as the built-in product reviews. Customers rely on reviews to help them make their purchase decisions, and that's even more important when large dollar amounts are at stake. Shift4Shop's free product review module is very valuable to a business like Pearls of Joy.
Of course, there are risks involved in selling high-ticket items — luxury merchandise is a common target of internet fraudsters. Canning is thankful for Shift4Shop's FraudWatch app, which analyzes attempted purchases across 12 indicators that represent common traits of fraudulent orders. Orders with suspicious features like payment methods that don't match the shipping address are flagged for review and can be accepted or rejected at the business owner's discretion. FraudWatch also compiles community information from other vendors to help determine a positive or negative fraud history for customers that place risky orders. Canning says FraudWatch has saved Pearls of Joy thousands of dollars.
Continued Success
Since its founding in 2003, Pearls of Joy has truly made waves in the industry by selling jewelry online. Kevin Canning has been featured in an assortment of media like the Today Show, The Talk, The View, Huffington Post, Inc. Magazine, and Forbes, and has also supplied pearls for films and television.
Today, Pearls of Joy has broken the 7-figure revenue mark, which Canning sees as an opportunity for further expansion. "Once you hit $1.0m, you now have cash flow and assets to fund serious growth," he says. "Pearls of Joy has tremendous momentum and I have no plans on taking the foot off the gas. I believe within 5 years we can make our competition completely irrelevant and I plan on breaking the 8-figure mark."
Pearls of Joy is a fantastic example of the success a business can reach with a well-defined niche and a solid plan — and of course, an eCommerce platform powerful enough to handle it. Canning considers his decision to use Shift4Shop "a no-brainer" thanks to its robust features, flexibility, and ease of use.
Using the right eCommerce software can help empower a business to follow its plans for success and to reach its goals, but no business can survive without the other ingredients: planning, innovation, and a carefully-chosen niche and market. Canning offers a classic piece of advice that emphasizes the importance of specialization in business: "If you try to be everything to everyone, you'll end up nothing to anyone." The story of Kevin Canning and Pearls of Joy is a true inspiration to every entrepreneur seeking to shake up the market and grow a successful business.